Blog

Healthcare design that captures the essence of a community brings comfort, healing, and respite to patients and staff. Healthcare designers that can accomplish that are bound to win awards. The hospital featured here, Grand Island Regional Medical Center located in Grand Island, Nebraska – designed by HDR is in a position to win a 2021 Healthcare Design Showcase Award. And we hope they do!
Grand Island Regional Medical Center
Grand Island Regional Medical Center located in Grand Island, Nebraska is a community hospital that is dedicated to improving health through the empowerment of the community and their healthcare team. The new construction project was initiated by a group of local doctors and business leaders who wanted to offer Grand Island patients an experience that was community-driven and responsive to their needs. They called on expert healthcare designers HDR to help bring their motives to fruision.
Healthcare Designers at HDR saw the project as an opportunity to use local art to help patients, staff and visitors feel right at home. They incorporated 64 local landscapes into patient rooms and 25 different murals throughout the facility. Each landscape captures the essence of Nebraska.
To accomplish this, the HDR team commissioned a local photographer to showcase unique landscape images. Each image was made into a full-height graphic wall covering and installed throughout the hospital. Every patient room has its own distinct graphic near the family waiting space, with lighting designed in such a way that the patient tower resembles a vibrant mural in the evening and night from the exterior. (source)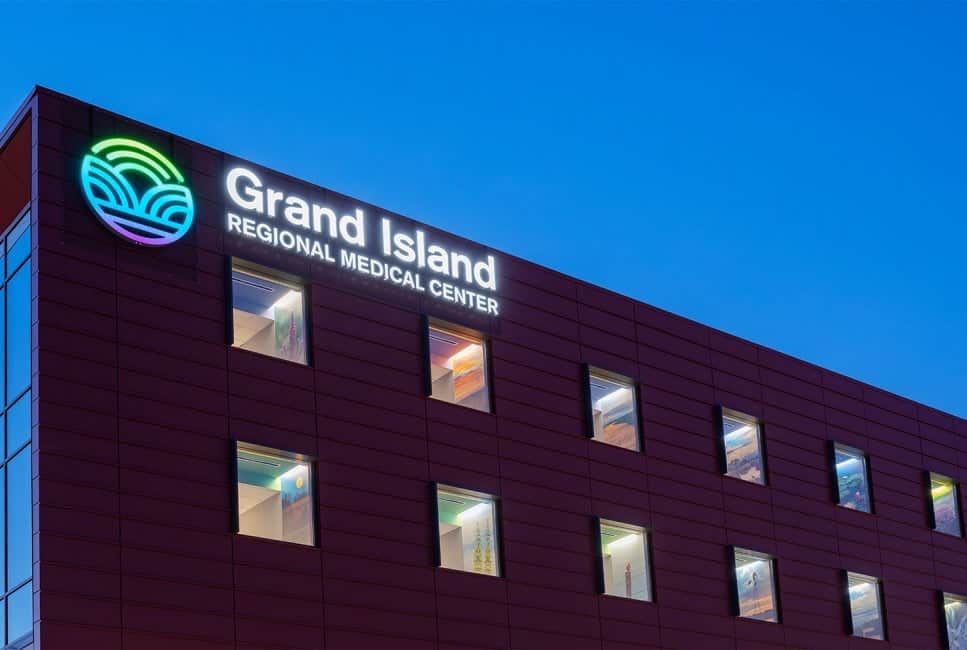 Beyond the use of local art, the new hospital is integrated strongly into the surrounding community and landscape, with access to nearby walking trails, healing gardens, health and wellness-focused businesses, and living and hospitality opportunities. Visit the HDR website to see more project photos and to learn more about the design.
See Healthcare Design's Showcase Award Finalists and/or Two Is Better Than One – Just Ask the Patients and Staff at Carson Dermatology
Marie Wikoff is the creator of Wikoff Design Studio based out of Reno, Nevada. Her expertise in healthcare design has helped develop modern design for healthcare organizations locally, regionally and internationally. Her credentials include Evidence-Based Design Accreditation and Certification (EDAC), American Academy of Healthcare Interior Designer (CHID), the National Council of Interior Design Qualification (NCIDQ) and LEED AP. Contact Marie Wikoff
Sources
"Grand Island Regional Medical Center." HDR, 26 Mar. 2021, https://www.hdrinc.com/portfolio/grand-island-regional-medical-center.
Jennifer Kovacs Silvis. "Awards + Events." HCD Mag, https://healthcaredesignmagazine.com/news/awards-events/distinctive-details/.