Blog

Each year, Healthcare Design Magazine honors the best hospital designs. The list below are projects that were named Finalists in the competition for their unique design elements. See the original post here, posted by Jennifer Kovacs Silvis on August 17th, 2021. In the following weeks, we will delve deeper into these projects to explore the design features that helped them stand out from the competition. Enjoy!
Evangelical Community Hospital, Lewisburg, Pa.
Submitted by CallisonRTKL
Evangelical Community Hospital sought to revitalize its existing hospital through the addition of a new bed tower that ties into the old building. To ensure that the new design, from main entry to patient room, supported a patient- and family-centered care model, the team validated concepts by using both physical and virtual mock-ups and user group testing. Efficiencies were gained via the project by changing from double-occupancy to single-patient rooms with nested bathrooms, which allowed for a larger staff care zone and improved sight lines to the patient from the corridor. Additionally, sliding doors were specified for patient rooms, reducing the overall floor plate width and permitting light from the fully glazed exterior patient room wall to reach the corridor. Meanwhile, a decentralized nursing model was adopted, including decentralized medication storage developed with nursing and pharmacy staff. (photo credit: Courtesy of HDR ©2020 Dan Schwalm)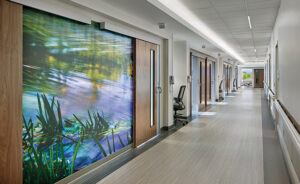 Grand Island Regional Medical Center, Grand Island, Neb.
Submitted by HDR
Initiated by a group of local doctors and business leaders to bring a community-driven, wellness-focused healthcare solution to Grand Island, Neb., the Grand Island Regional Medical Center's design is driven by capturing and celebrating the regional vernacular. For example, the exterior of the 173,000-square-foot building features a red, open-joint panel system conveying the Great Plains' classic red barn and a modern, clean building form inspired by the nearby Stuhr Museum of the Prairie Pioneer. A move to integrate primary mechanical systems on the second floor, above a fieldstone podium, allows upper patient rooms more elevation to view the landscape through expansive windows. On patient room walls adjacent to those windows are full-height graphics showcasing Midwestern landscapes, a unique scene in each room. The graphics can then be viewed from the exterior at night, creating a glowing lantern effect. A final nod to the community comes in the built-in flexibility to expand to serve the population in the future, with support in place for additions to the surgery and emergency department as well as a vertical expansion of the patient tower. (photo credit: Courtesy of HDR ©2020 Dan Schwalm)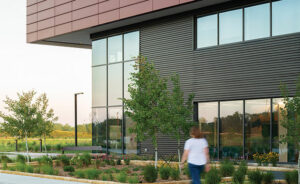 Penn Medicine Radnor, Radnor, Pa.
Submitted by Ballinger
As part of a mixed-use development that's transforming an existing suburban office park, Penn Medicine Radnor contributes to the regeneration of the site in many ways. Overall, the design of the parcel itself places buildings at the periphery and eliminates surface parking, creating more opportunities to introduce nature. Components of the master planned site (office building and hotel) connect via a network of walking paths, sharing amenities at times, too—for example, the office building shares Penn Medicine Radnor's microfarm and outdoor gathering pavilion. Environmental stewardship and biophilia are leveraged within the building itself, as well, with aesthetics defined by light-filled spaces, a warm neutral palette, and nature-inspired graphics integrated throughout. To further blur the distinction between inside and outside is a glass façade, generous windows, and a glass bridge between wings to create a naturally lit lounge with seating and views all around. (photo credit: Albert Vecerka)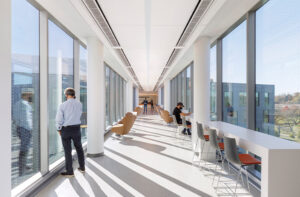 UCHealth Steadman Hawkins Clinic Denver and CU Sports Medicine Center, Denver
Submitted by BSA LifeStructures
The UC Health Steadman Hawkins Clinic Denver and CU Sports Medicine Center delivers a holistic approach to care that includes an orthopedic clinic, physical therapy, rehabilitation spaces, operating rooms, imaging, training, and tracks and turf field. And the design itself helps support the immersive sports performance experience. As patients arrive, there are immediate views to the outdoor turf green for inspiration, while a soaring, light-filled lobby showcases sight lines to the gym and golf course adjacent to the site and integrates a sports-inspired digital wall display and cases of sports team memorabilia. The building also reflects its location, with an exterior featuring Colorado Bluff stone, wood tones, and lots of natural light and views to blend the indoors with the outdoors. Meanwhile, interiors prioritize daylight throughout, including light wells to brighten clinical areas, as well as transparency between spaces, such as a second-floor education and conference room with expansive windows that overlook the gym and lobby below. (photo credit: Albert Vecerka)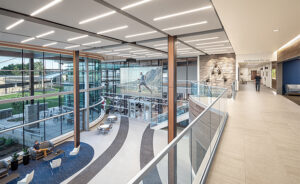 Marie Wikoff is the creator of Wikoff Design Studio based out of Reno, Nevada. Her expertise in healthcare design has helped develop modern design for healthcare organizations locally, regionally and internationally. Her credentials include Evidence-Based Design Accreditation and Certification (EDAC), American Academy of Healthcare Interior Designer (CHID), the National Council of Interior Design Qualification (NCIDQ) and LEED AP. Contact Marie Wikoff
Source
Jennifer Kovacs Silvis. "Awards + Events." HCD Mag, https://healthcaredesignmagazine.com/news/awards-events/distinctive-details/.