Blog

Sky Factory creates illusions of nature to promote healing and well-being in various settings including healthcare and hospitality environments, and office spaces. In today's world where we spend more and more time inside, the connection to nature that Sky Factory supplies is important. It reconnects us to the natural world and brings the beauty and tranquility of nature inside.
About Sky Factory
Formed in 2002, the Sky Factory is a company based in Fairfield, Iowa, that specializes in creating virtual skylights and windows. Using a combination of photography and digital cinema, they are able to produce high-quality illusions of nature that have a profound impact on our well-being.
With a team of talented individuals, including engineers and artists, the Sky Factory is dedicated to providing the highest quality Illusions of Nature. Their work has been recognized worldwide, with partners located in various corners of the globe.
Social Impact
Sky Factory's research-verified installations have been shipped to major healthcare networks in every continent, including specialty commercial spaces ranging from Dallas to Doha, Paris to Pasadena, and Toronto to Tokyo.
Since 2002, Sky Factory Luminous SkyCeilings, Luminous Virtual Windows and Digital Cinema products have been seen by an estimated 650 million people.
That's 4X the number of visitors to the top 25 U.S. National Parks in 2021 (146M visitors). (source)
The Power of Magic
What sets the Sky Factory apart is their understanding and appreciation for the power of magic. Their art lies in creating illusions that transport us to a world filled with natural beauty and serenity. And it is precisely this magic that has made them a go-to choice for hospitals and healthcare settings.
Research conducted over the last several decades has shown that exposure to nature promotes healing in healthcare settings, improves productivity and satisfaction in the workplace, and reduces stress in all environments. Understanding this, the Sky Factory has collaborated with hospitals and healthcare facilities, providing digital moving clouds and skylights that create a therapeutic and healing environment.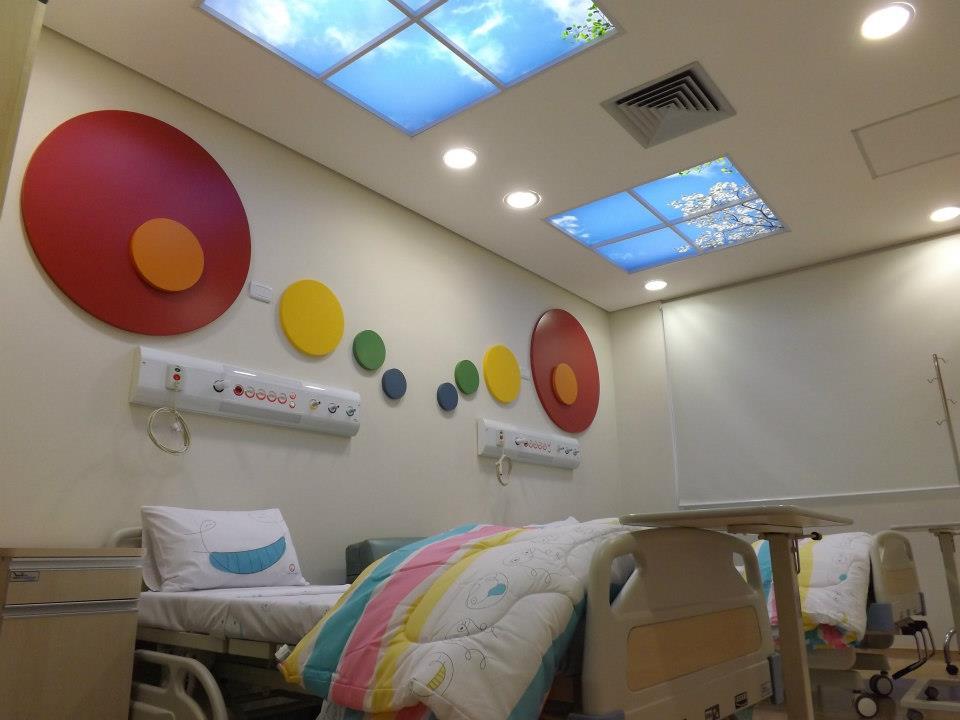 Collaboration with WDS
One shining example of their work is their collaboration with Wikoff Design Studio (WDS), where they installed virtual skylights above hospital beds at the Hospital de Cancer de Barretos. The digital moving clouds provided by the Sky Factory not only brought a sense of awe and wonder to the children, families, and staff, but also played a vital role in promoting healing and well-being. Browse WDS Projects to See More Sky Factory Collaborations
It's no wonder that more and more organizations are turning to the Sky Factory for their artistic technology. By bringing the beauty of nature indoors, they are able to create environments that are not only therapeutic but also fun and engaging. From hospitals and hotels to workplaces, the Sky Factory's illusions have the power to transform spaces and uplift moods.
In a world that often feels disconnected from nature, the work of the Sky Factory is a much-needed reminder of the magic and healing power of the natural world. By creating illusions of nature, they are bringing us closer to the tranquility and serenity that can be found in the great outdoors. So the next time you find yourself longing for a breath of fresh air, remember that the Sky Factory is here to bring the wonders of nature to you, no matter where you are. Visit the Sky Factory Website
Marie Wikoff is the creator of Wikoff Design Studio based out of Reno, Nevada. Her expertise in healthcare design has helped modernize healthcare organizations locally, regionally, and internationally, improving patient experience and outcomes. Her credentials include Evidence-Based Design Accreditation and Certification (EDAC), American Academy of Healthcare Interior Designer (CHID), the National Council of Interior Design Qualification (NCIDQ) and LEED AP. Contact Marie Wikoff