Blog
Professional athletes, students, and weekend warriors can take advantage of the new UCHealth Steadman Hawkins orthopedic and sports performance center. The clinic's cutting-edge orthopedic care, physical therapy, and training facilities are perfect examples of healthcare design that boost sports performance. Beyond that, the building also reflects its location, with an exterior featuring Colorado Bluff stone, wood tones, and lots of natural light and views to blend the indoors with the outdoors. This facility inspires healing.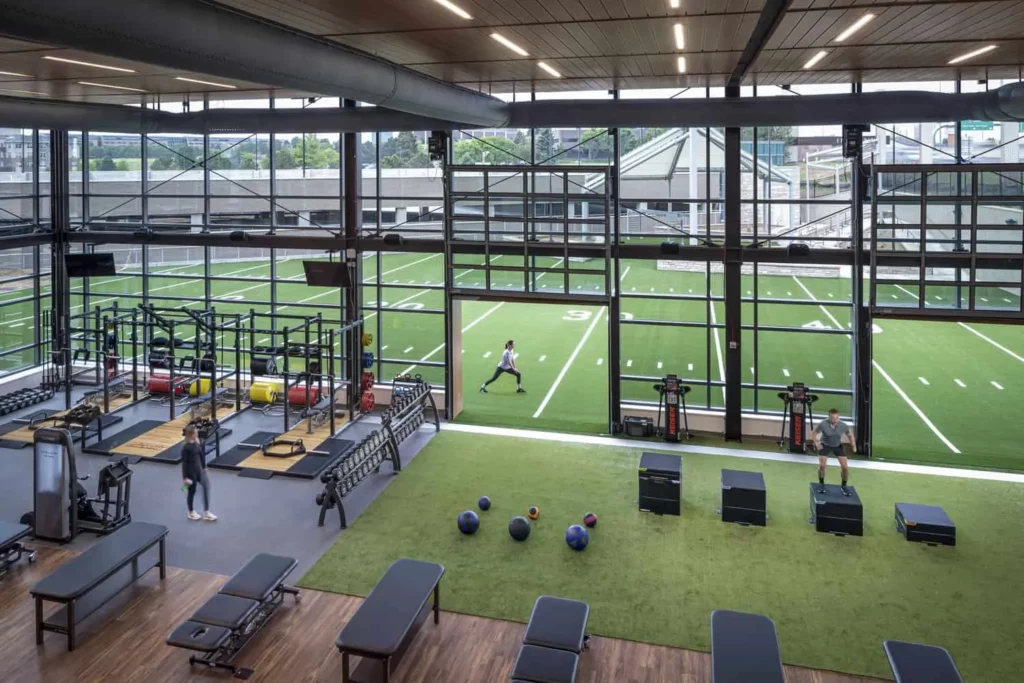 Award-Winning Healthcare Design
The UCHealth Steadman Hawkins Clinic in Denver, Colorado was designed by BSA LifeStructures. BSA LifeStructures designs facilities that support, enhance and inspire healing, learning, and discovery. Facilities that are LifeStructures. In this case, BSA provided:
Master Planning
Architecture
Interior Design
Operational Planning
Site Planning
Commissioning
The UCHealth Steadman Hawkins Clinic is in line to win a 2021 Healthcare Design Showcase Award. On top of that, the project was awarded the 2020 ENR Mountain States Best Projects Award, Health Care: 2019 IIDA Rocky Mountain Chapter, BESTawards: Give. (source)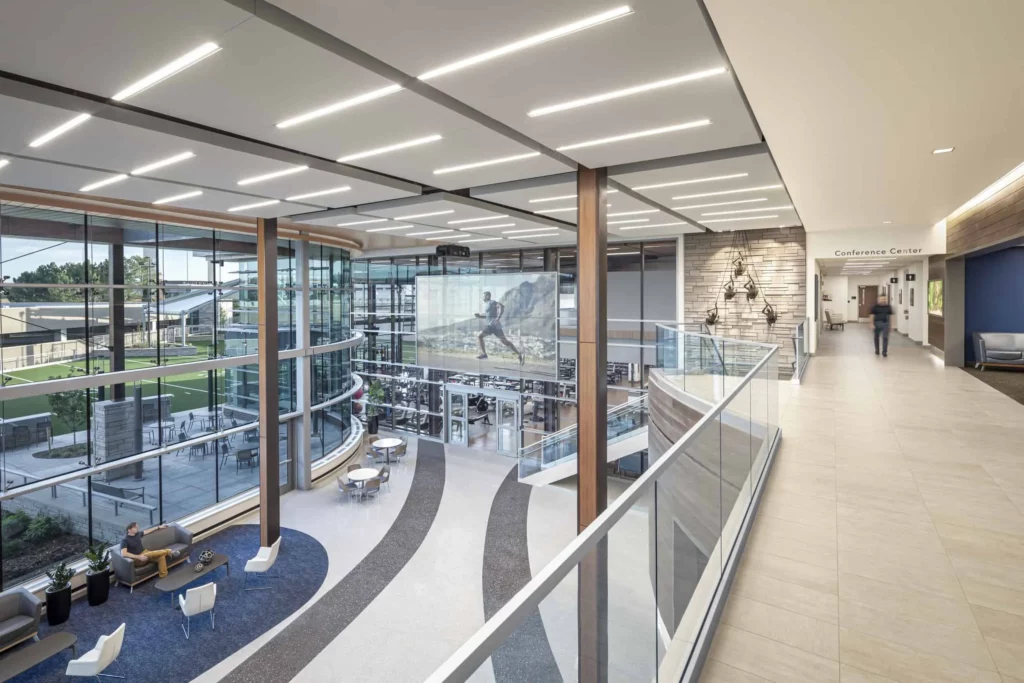 About the Facility
The center includes physical therapy, sports performance, MRI, orthopedic clinics, and an eight OR ambulatory surgery center. The design also prominently features a 10,000 sf outdoor sports performance training field strategically inserted between a 300-car net zero parking garage and the center.
The training field immediately ushers visitors into the culture and mindset of a world-class athlete. The double-height lobby is the heart of the building and showcases open views of the training fields, the PT/sports performance gym, and the golf course. The lobby also connects the clinics on level 2, where natural daylight is delivered to the care team via a lightwell.
The orthopedic exam rooms are a variation of BSA's prototypical rooms, developed through a progressive mock-up process that included feedback from over 60 clinicians and research from peer-reviewed journals. The surgical floor tops the building with a double-height waiting room that overlooks the golf course and provides a sheltered place away from the hub to focus on procedures. Customized artwork throughout further inspires performance and celebrates movement solidifying its role as a center for healthy living and wellness. (source)
For more articles like this, visit: Featured Artists and Inspirations
Marie Wikoff is the creator of Wikoff Design Studio based out of Reno, Nevada. Her expertise in healthcare design has helped develop modern design for healthcare organizations locally, regionally and internationally. Her credentials include Evidence-Based Design Accreditation and Certification (EDAC), American Academy of Healthcare Interior Designer (CHID), the National Council of Interior Design Qualification (NCIDQ) and LEED AP. Contact Marie Wikoff
Sources
"UCHealth Steadman Hawkins Clinic Denver." BSA Lifestructures, 11 May 2021, https://www.bsalifestructures.com/project/steadman-hawkins-clinic-denver-cu-sports-medicine.
Jennifer Kovacs Silvis. "Awards + Events." HCD Mag, https://healthcaredesignmagazine.com/news/awards-events/distinctive-details/.