Blog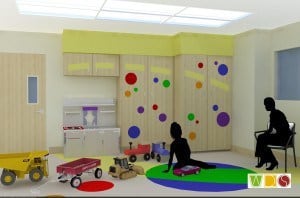 Recently featured in Northern Nevada Business Weekly, worldwide designer Marie Wikoff claims to use Google SketchUp to create beautiful renderings.  Wikoff, owner of Wikoff Design Studio in Reno, NV specializes in healthcare design and has traveled all over the world designing.
She said this about Google SketchUp:
"Lately people have been asking what kind of software I use to create designs and see them visually.  I use Google SketchUp.  The results of this software are stunning!  SketchUp is becoming more and more popular as it allows designers to create such beautiful renderings."
Over the years, her use of SketchUp has grown and now she considers SketchUp Pro and SU Podium to be essential tools. SU Podium, for those unfamiliar with it, is a great tool to take your SketchUp models and make them look amazingly realistic increasing SketchUp's power by processing light information input by the user. For example, check out the rendering below from Renown Children's Hospital that she modeled (via SketchUp with SU Podium):
The results are stunning, and the ability to create beautiful renders like that is a big reason that SketchUp is becoming as popular as it is lately.
SU Podium can be used on any of your models to increase their realism.