Blog
Form & Function in Interior Design
It is a well-known belief that in design, form should always follow function. That means the room needs to function first before it's pretty.

It's human nature to be drawn to beautiful things but unless they serve a purpose you may not want to incorporate random, beautiful things into your design. If you do, you risk creating a space that is full of unimportant items. Instead, you want to aim to create a space that is equally efficient and appealing.
How to Create a Space That Is Efficient and Appealing in Three Steps
The first step to creating a space that is efficient and appealing is to define the purpose of the space. What is the space used for and who will be using it? Answering these questions will give you cue's on the necessary items needed for the space.
I recently designed a space at Sierra Nevada Ears, Nose and Throat in Carson City, Nevada. This space is used as a reception/waiting room for patients. The room's purpose is to provide a place for receptionists to check in clients and for clients to wait to be seen by their healthcare provider.
The second step is to define the elements of the space. In the example here, we needed furniture for clients, a reception desk, a child play area and the essential finishes; durable flooring, ambient and accent lighting, and interesting walls. Also, healing artwork is always important in my spaces and I ensure the client is informed about it and it is included in the budget. We also knew that we needed acoustical/sound blades to help prevent sound reverberation in this clerestory type of ceiling.
The third step is to imagine how the elements or necessary items defined in the second step can become part of the design. For example, the light fixtures are a major element in the design. The color-blocked floors help define the two spaces and offer a path to the reception desk from the waiting area which makes it feel more inviting, while keeping the seating areas in their place. This also helps the maintenance staff in reassembling the space after their nightly cleanings. The reception desk acts as a cornerstone in the design and offers a touch of glam because of its glow. The windows are important because they offer biophilic, healing views. Lastly, the sound blades are mounted on the wall and become a design feature merely by hanging them in an interesting way and coordinating them with materials in the color palette.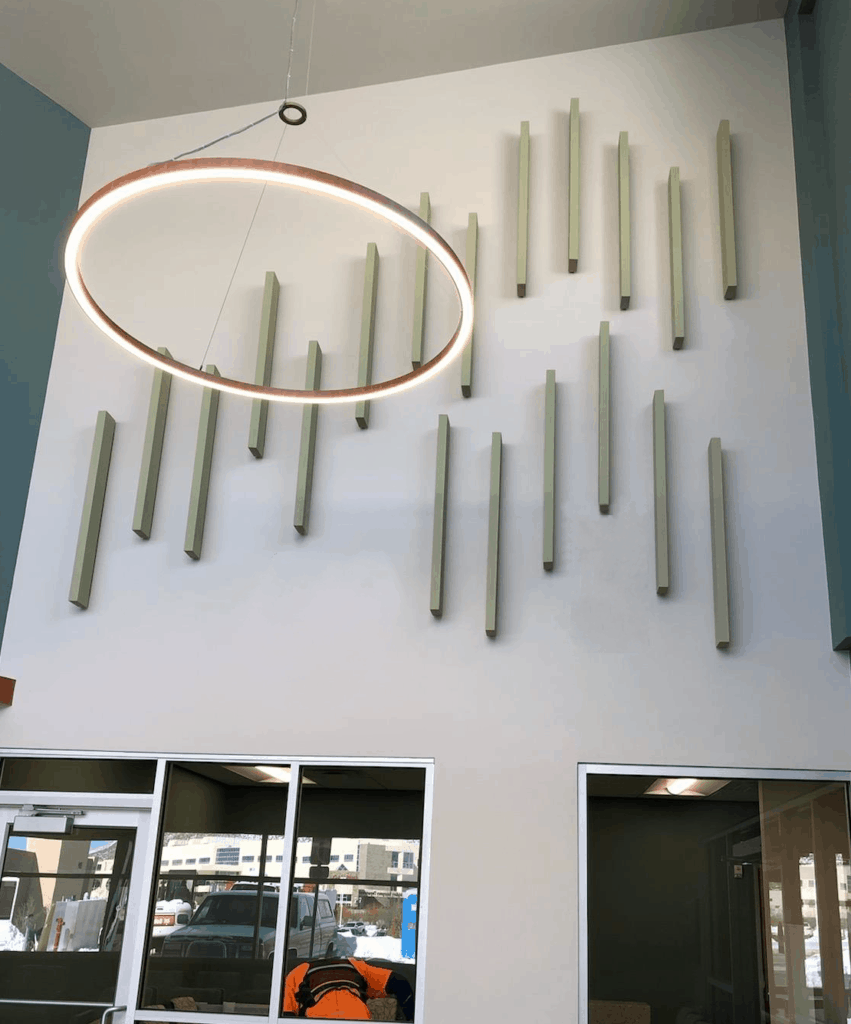 When you put together a room, following the three steps outlined here. This will help ensure that your room is functional and beautiful. Do you have any recent examples you would like to share? If so, leave me a comment below or contact me.
Marie Wikoff is the creator of Wikoff Design Studio based out of Reno, Nevada. Her expertise in healthcare design has helped develop modern design for healthcare organizations locally, regionally and internationally. Her credentials include Evidence-Based Design Accreditation and Certification (EDAC), American Academy of Healthcare Interior Designer (CHID), the National Council of Interior Design Qualification (NCIDQ) and LEED AP. Contact Marie Wikoff