Blog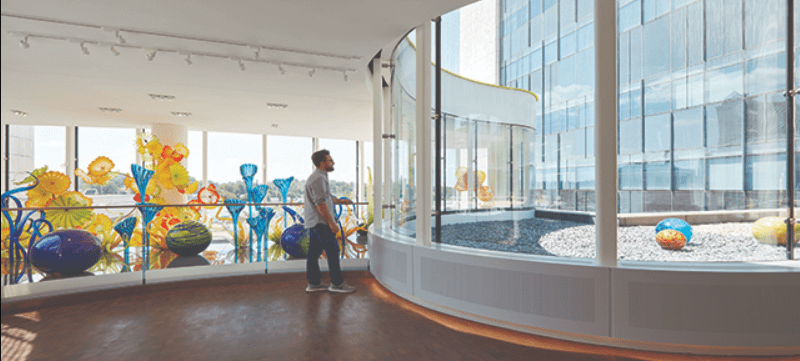 Daylighting is a key element in any healthcare design project. It provides views, fresh air and of course the healing rays of sunshine. The House Of Glass: The Chihuly Sanctuary At The Fred & Pamela Buffett Cancer Center project was recently featured in Healthcare Design Magazine and is a perfect example of using abundant views, glass decor that naturally reflects sunlight and huge picture windows in a healthcare environment for the purpose of healing.
The Chihuly Sanctuary offers patients and staff a place for inspiration and rejuvenation at the Fred & Pamela Buffett Cancer Center in Omaha, Neb.
In the picture shown here, the transparent space allows visitors to enjoy interior and exterior art installations simultaneously through the generously sized windows. The colorful garden elements of the "Mille Fiori" are made of glass which naturally reflects the sunlight. Inside, walkerbys can enjoy the view of the glass "Nijima Floats" on the rooftop garden.

The Fred & Pamela Buffett Cancer Center is designed to be a place of holistic healing, providing the highest level of cancer care and treatment. But healing often requires more than just treating patients medically. The director of the $323 million project, Dr. Kenneth Cowan, understood that to heal, patients must be in a soothing and inspirational environment. He states: "Studies have shown that creating an atmosphere of hope and resilience through artwork goes beyond curing disease and leads to improved patient outcomes."
The facility is the product of a joint effort between Nebraska Medicine and the University of Nebraska Medical Center. It opened in June 2017 and comprises the Suzanne and Walter Scott Cancer Research Tower, C.L. Werner Cancer Hospital, and a multidisciplinary outpatient center.
Project Details

Project name: Chihuly Sanctuary, Fred & Pamela Buffett Cancer Center
Completion date: May 2017
Owner: University of Nebraska Medical Center and Nebraska Medicine
Total building area: 3,667 sq. ft.
Architecture: HDR
Interior design: HDR
Contracting: Kiewit
Engineering: HDR
Construction: Kiewit
Art: Dale Chihuly, Chihuly Studios
Carpet/flooring: Oregon Lumber Co., Zongkers Custom Furniture and Cabinetry, Ceramiche Caesar, RBC Tile & Stone, Commercial Flooring Systems, Interface, Construction Specialties
Ceiling/wall systems and finishes: Fellert (ceilings), PPG Architectural Coating (paint), Armourcoat (Venetian plaster), Zongkers Custom Furniture and Cabinetry (custom wood panel cladding)
Furniture—seating/casegoods: Zongkers Custom Furniture and Cabinetry (custom wood benches), Forms & Surfaces (site furnishings)
Handrails/wall guards: Zongkers Custom Furniture and Cabinetry
Roof deck sidewalks: Daedalus Construction Co.
Understory planting/ground cover: Lanoha Nurseries
Marie Wikoff is the creator of Wikoff Design Studio based out of Reno, Nevada. Her expertise in healthcare design has helped develop modern design for healthcare organizations locally, regionally and internationally. Her credentials include Evidence-Based Design Accreditation and Certification (EDAC), American Academy of Healthcare Interior Designer (CHID), the National Council of Interior Design Qualification (NCIDQ) and LEED AP. Contact Marie Wikoff
Source:
Carpenter, Bruce. "Cancer Care." HCD Magazine, www.healthcaredesignmagazine.com/projects/house-glass-chihuly-sanctuary-fred-pamela-buffett-cancer-center/?hilite=%27garden%27#slide-5.