Blog

The greatest risks for patients during a hospital stay are hospital-acquired infections, medical errors and falls. This is where a hospital's physical design becomes a crucial element of patient health, comfort and well-being. Good hospital design can reduce these risks.
Models Built to Test Efficiency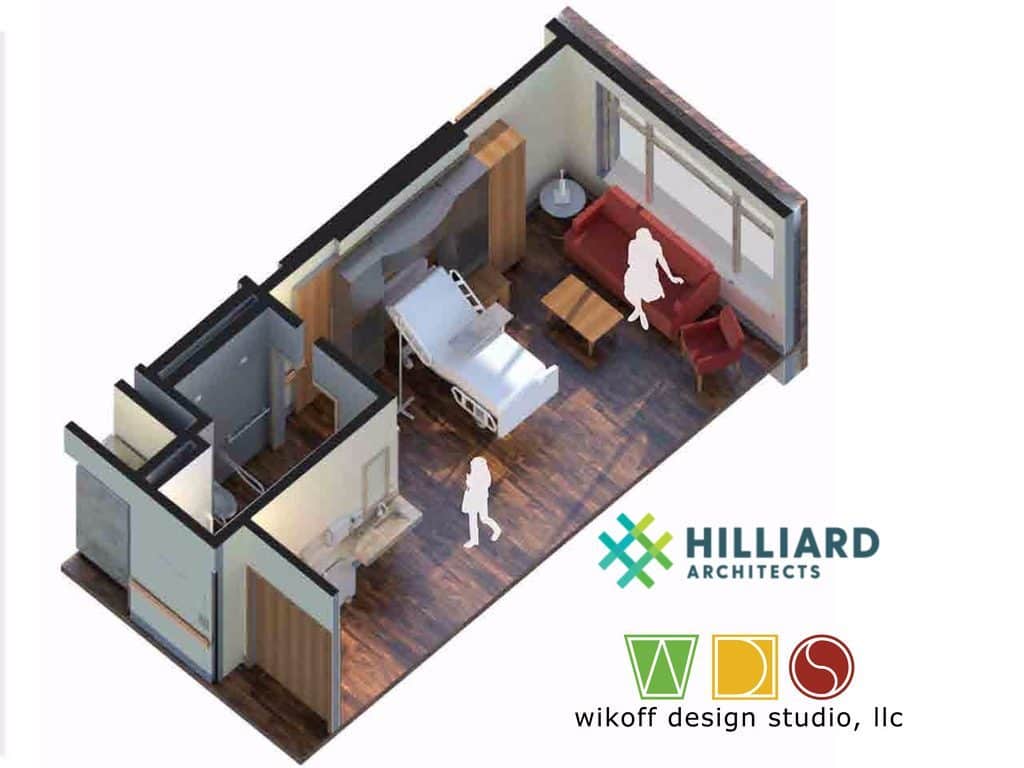 Last year, the Sacramento VA Medical Center asked healthcare design experts Hilliard Architects Inc. and Wikoff Design Studio to build five model rooms. The rooms were to be built on site for the sole purpose of testing and acquiring feedback from the same staff who will eventually work in the final environment. The goal was to test efficiency. Specifically, cut down on infections, and improve patient safety by preventing falls.
Design Elements that Prevent Infection
Hilliard Architects and Wikoff Design Studio presented the VA project team with a modified patient room that would reduce the risk for infection. Three main strategies were used – private patient rooms with nearby nurses' stations, large handwashing stations and design materials that have better indoor air quality, maintenance, and infection control properties.
Private patient rooms and decentralized nurses' stations help control the spread of infection. The private rooms help isolate contagious disease while the decentralized nurses stations help contain contagious disease and keep it to one spot.
Handwashing is said to be the single most important method to prevent hospital infections. The design team installed a large handwashing sink that is optimally placed as close to the entrance of the room as possible and is large enough to prevent splashing. The sink is equipped with a hands-free control, soap dispenser and paper tower holder.
The materials chosen by the design team are water and fluid resistant and easy to clean. The finishes and fixtures are durable and can be wiped easily.
Design Elements that Prevent Falls
To help prevent slip and fall accidents, the design team created each room with straight lines and clear paths to the bathroom. Each bed has an adjacent handrail that leads all the way to the toilet. The bed and toilet are as close to each other as possible and in a straight line along the wall.
To prevent staff and patient related falls, the design team installed a patient lift system that works on a ceiling track. The track configuration is ideal as it mobilizes the patient and assists them from the bed into the bathroom.
Knowledge Means Prevention
While you can't defend against everything, you can defend against what you know. What is known, is that many patient and care provider injuries are preventable. The more prepared, the better the outcome.
Marie Wikoff is the creator of Wikoff Design Studio based out of Reno, Nevada. Her expertise in healthcare design has helped modernize healthcare organizations locally, regionally, and internationally, improving patient experience and outcomes. Her credentials include Evidence-Based Design Accreditation and Certification (EDAC), American Academy of Healthcare Interior Designer (CHID), the National Council of Interior Design Qualification (NCIDQ) and LEED AP. Contact Marie Wikoff

Hilliard Architects https://hilliardarchitects.com/about/
Wikoff Design Studio https://wikoffdesignstudio.com/