Blog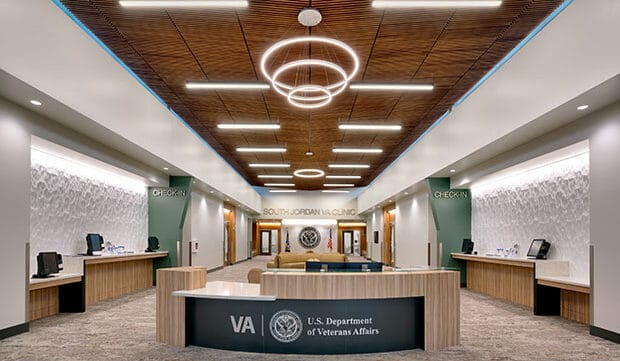 Patient Aligned Care Team PACT is a new model of care that transforms the way Veterans receive healthcare. The PACT model is built on the well-known concept of patient-centered care. It involves each Veteran working with health team that plans and administers life-long health and wellness.
Healthcare Design Magazine recently featured the new VA Clinic located in South Jordan, UT.
About the Project
To increase access to care, the new VA Clinic features dozens of exam rooms and spaces specifically designed for family practice, women's health, telehealth, audiology, mental health, and more. Each service has been optimized around the VA's Patient Aligned Care Team (PACT) model. The PACT initiative encourages a more collaborative and transparent healthcare experience. Supporting this model, the layout and design of the new building focuses on efficient access, intuitive wayfinding, privacy features, and ample workspace for staff.
The facility provides an open and modern aesthetic featuring daylit spaces, clean lines, and durable finishes. Healthcare providers enjoy the benefits of easy circulation to exam rooms, open office space for team collaboration, and break areas filled with natural daylight and floor-to-ceiling views. (source)
Design Team
Architecture Firm: MHTN Architects
Interior Design: MHTN Architects
General Contractor: L&T Construction
Engineering: BHB (structural), PVE Inc. (mechanical), Spectrum Engineers (electrical)
Builder: L&T Construction
Marie Wikoff is the creator of Wikoff Design Studio based out of Reno, Nevada. Her expertise in healthcare design has helped modernize healthcare organizations locally, regionally, and internationally, improving patient experience and outcomes. Her credentials include Evidence-Based Design Accreditation and Certification (EDAC), American Academy of Healthcare Interior Designer (CHID), the National Council of Interior Design Qualification (NCIDQ) and LEED AP. Contact Marie Wikoff
Sources
"Photo Tour: South Jordan VA Clinic – HCD Magazine." Edited by Tracey Walker, Managing Editor, HCD Magazine – Architecture & Interior Design Trends for Healthcare Facilities, 4 Jan. 2022, https://healthcaredesignmagazine.com/projects/photo-tour-south-jordan-va-clinic/#slide-6.