Blog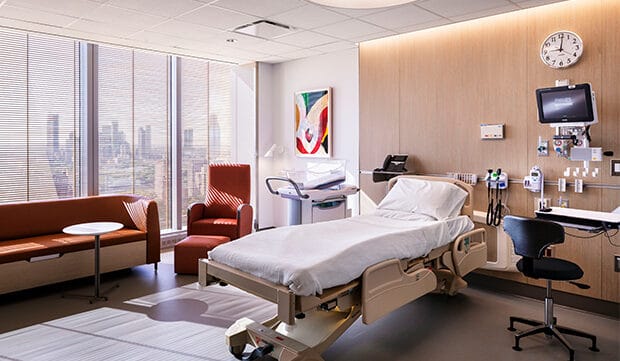 We've all heard the phrase "Less is more." In this case, less isn't just more, it means longevity too. In healthcare design, budget and patient/staff experience are usually the top considerations when beginning a project.
When a design project is limited to the budget, how do designers accomplish everything necessary to ensure outstanding patient and staff experience? The answer is often to do less.
Case Study – Alexandra Cohen Hospital for Women and Newborns
Recently open, Alexandra Cohen Hospital for Women and Newborns is a new addition to the New York-Presbyterian David H. Kock Center in Manhattan. The newest offering for women and newborns provides comprehensive care for mothers and infants before, during, and after birth, including specialized prenatal care and neonatal intensive care.
About the Project
Designed to accommodate 7,000 births per year, the hospital, which nearly triples the organization's previous space for mother and infant care, includes 75 private antepartum and postpartum rooms (up from 68), 60 newborn intensive care beds (up from 50, and including 42 private units), and 16 labor and delivery rooms (up from 11). Clinical spaces include five C-section operating rooms, 20 triage/prep/recovery rooms, eight private antepartum testing rooms, and 15 ultrasound rooms on the 12th floor.
The project was a collaboration between several firms that delivered the earlier Koch Center projects, including HOK (New York) as project architect and Ballinger (Philadelphia), which served as medical architect and healthcare planner; interior design was by HOK with Ballinger. (source)
About the Design
The project team sought a timeless aesthetic to align with New York Presbyterian's desire to create spaces that won't look outdated over the long term, says Christine Vandover, senior project interior designer at HOK.
Among the features are stone floors in the sky lobbies and wood-like materials used throughout the hospital, including a darker walnut-like wood in the labor and delivery rooms and a lighter ash in the postpartum rooms to distinguish the two areas as well as to mark a mother's transition from one to the other.
Another key was using diverse lighting fixtures in different areas to create varying effects, such as linear light fixtures in labor and delivery rooms to provide the brightness that's needed there, while the postpartum rooms feature round ceiling lights that have the feeling of a skylight in the room and can be dimmed.
The hospital's art program is another defining element of the interior design, adding color and vibrancy to the predominantly muted color palette, which helps achieve a serene, calming environment, as do furnishings in rich but subdued blues and warm auburns, Vandover says. (source)
Less Means Longevity
In the case of Alexandra Cohen Hospital for Women and Newborns, the designers heard the administration's goal to create an environment that will look good for a long time. To answer, the design team chose timeless materials and thoughtful design approaches such as lighting to further define space, furniture to add warmth, and art to add interest. These elements are easily swapped out in the future if needed while the permanent fixtures are done in a muted color palette using timeless materials.
If you liked this post, consider reading Commissioning Artwork That Honors Heritage and Meaningful Details and A Bold Color Palette Honors the Culture of the Diverse Community
Marie Wikoff is the creator of Wikoff Design Studio based out of Reno, Nevada. Her expertise in healthcare design has helped modernize healthcare organizations locally, regionally, and internationally, improving patient experience and outcomes. Her credentials include Evidence-Based Design Accreditation and Certification (EDAC), American Academy of Healthcare Interior Designer (CHID), the National Council of Interior Design Qualification (NCIDQ) and LEED AP. Contact Marie Wikoff
Source:
Plockova, Joann. "Projects." HCD Mag, Aug. 2021, healthcaredesignmagazine.com/projects/welcome-addition-alexandra-cohen-hospital-for-women-and-newborns/#slide-3.
Photo Credit:
James Ewing