Blog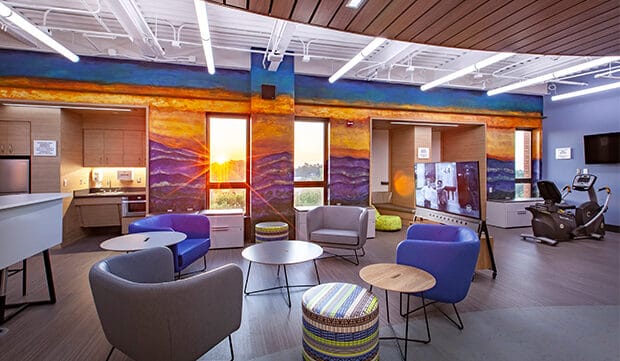 Bon Secours St. Francis Adolescent and Young Adult Cancer Center is a perfect depiction of healthcare design. Specifically for teens and young adults. Thoughtful design elements give adolescents separation from staff and provide community space for friendship, rest and games.
Making the Decision to Design for Teens
Bon Secours St. Francis Downtown in Greenville, S.C., recognized that teens and young adults battling cancer often are left out of the design mix. They either have to seek care at an adult facility or a children's hospital. Since neither environment caters to their specific needs, they end up feeling isolated.
A renovation opportunity for Bon Secours St. Francis meant they could fill the gap and build specifically for teens and young adults. With that goal in mind, they set out to renovate a former 26-bed medical oncology nursing unit. The result was Bon Secours St. Francis Adolescent and Young Adult (AYA) Cancer Center designed to address the unique needs of teen and young adult cancer patients.
Design Elements
One of the key design elements was creating a distinct separation of care and living space. This means teens seeking care have a dedicated space separate from their socially focused spaces. This helps patients feel more comfortable interacting with peers, and relaxing.
A local muralist transformed an entire wall into a painting of a vista from the nearby Blue Ridge Mountains and the decor around the center incorporates local photography of natural environments. The natural setting is something that all ages can appreciate and relate to.
Game rooms and hangout areas are stocked with musical instruments and laptops to encourage play and social interaction.
Circadian Rhythm lighting was incorporated which adjusts the color temperature and light spectrum throughout the day to create a more holistic healing environment and promote natural sleep cycles. Morning blue lights start each day and warmer orange lights illuminate the evenings.
A central living room offers plenty of soft, modular seating and private nooks. The kitchen area also converts to a private dining room when needed. (source)
Project Details
Facility Name: Bon Secours St. Francis Adolescent and Young Adult Cancer Center
Location Greenville, S.C.
Completion Date: August 2019
Owner:  Bon Secours St. Francis Health
Total building area: 2,160 sq. ft. renovation
Total construction cost: $719,000
Cost/sq. ft.: $332/sq. ft.
Architecture firm: McMillan Pazdan Smith Architecture
Interior design: McMillan Pazdan Smith Architecture
General contractor: Trehel Corp.
Engineering:  Reece, Noland & McElrath Inc. (MEP), Forma Structural Consulting (structural)
Builder: Trehel Corp.
Marie Wikoff is the creator of Wikoff Design Studio based out of Reno, Nevada. Her expertise in healthcare design has helped develop modern design for healthcare organizations locally, regionally and internationally. Her credentials include Evidence-Based Design Accreditation and Certification (EDAC), American Academy of Healthcare Interior Designer (CHID), the National Council of Interior Design Qualification (NCIDQ) and LEED AP. Contact Marie Wikoff
Source:
"Pediatrics." Edited by Tracy Walker, HCD Mag, July 2021, healthcaredesignmagazine.com/projects/photo-tour-bon-secours-st-francis-adolescent-and-young-adult-cancer-center/#slide-4.