Blog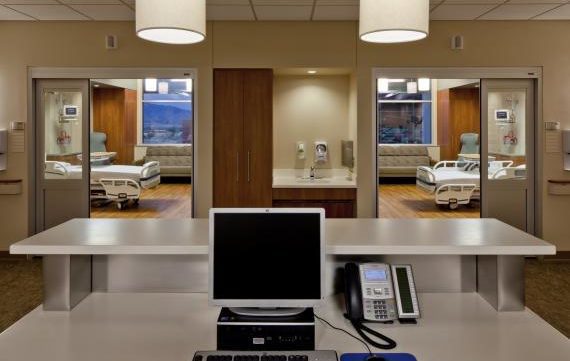 Healthcare design has seen a cultural shift toward embracing innovation, lean operation and evidence-based design. However, new approaches are often a challenge because of local jurisdictional laws and/or health and safety codes.
This year, Design Architectural and Interior Design Showcase awarded Honorable Mention to the Presbyterian Rust Medical Center in Rio Rancho, New Mexico for overcoming such challenges and designing a thoughtful solution to the new and popular between-room nurses stations also known as decentralized nurses' stations.
In the beginning, designers went to work carving out  "between-room alcoves"  – the industry's newest trend that puts additional mini-stations between patient rooms for added work space for nurses. Designing the unit in this way decentralizes gathering points thus reducing the amount of clinicians in one space and lowering the potential amount of hallway noise.   Unfortunately they were stopped in the design phase because of New Mexico's life safety code which prohibited the design.  The approach also raised addition concerns regarding limited  workspace and privacy/security issues.
The solution? Nurses' stations across from every two patient rooms, so staff can see into the rooms but at an allowable configuration.
Jury comments include: "interesting adaptation of decentralized nursing," "a lot of thought put into the details," and "focus on patient-centered care clearly a priority."
The Presbyterian Rust Medical Center in New Mexico is a great example of how designers may overcome codes and laws that prohibit them from implementing specific design goals that have since been proven to help create a more positive healthcare experience which in turn helps to heal.