Blog
Community of Hope (COH), a non-profit healthcare facility in Washington, D.C. serves as the only freestanding birthing center in the capital city. They provide quality, compassionate care, and outstanding patient experience, regardless of insurance or ability to pay. The healthcare providers and support staff engage patients and seek to keep healthcare affordable and accessible.  
When the organization learned that its digs had been sold, it sought out a new, bigger space within its existing neighborhood. The goal was to use the move as an opportunity to expand the nationally accredited birth center and family health services. The goal was accomplished. In doing so, the new design used curved architectural features, soft soothing colors, and celebratory artwork to make patients feel welcome.
Design Priorities
When the new location was secure, COH partnered with Gensler's Washington, D.C., office to conduct a focus group to gather input regarding the facility's form and function from clients and staff. The feedback helped define the project's design priorities, which included:
Create a highly visible entry
Reduce barriers between staff and patients
Signal to patients that they are welcome and trusted
Welcoming Healthcare Design Elements
When determining what healthcare design elements would make expectant mothers feel welcome, the design team decided on curved architectural features, soft soothing colors, and celebratory artwork to make patients feel welcome.
Architectural Features
The architecture features ceilings that curve and rounded corners.
Color Pallete and Furnishings
In the common area, the feminine-colored furnishings are round and configurable making waiting rooms feel comfortable. In the birthing room, soothing colors in a wide array of nudes promote a sense of peace and well-being.
Artwork
Colorful artwork by local artists is showcased throughout the facility. The mixed-media mural by Zsudayka Nzinga Terrell (shown above), captures the joy, hope, and love in everyday interactions among families.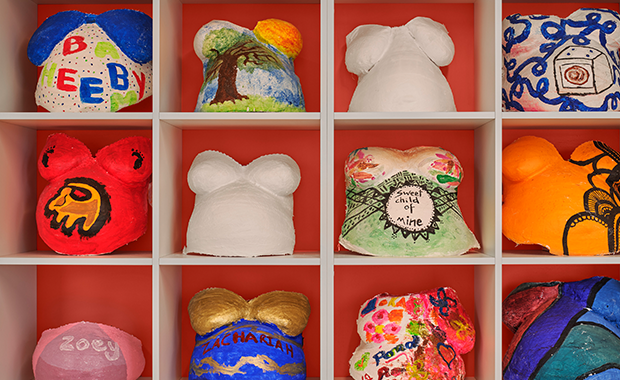 To embrace and celebrate the beauty of the pregnant body, expecting mothers create belly casts that are displayed in a rotating gallery.
The architectural features, color pallet, furnishings, and artwork lend a feminine feel to the space. curving ceilings, rounded corners, and furnishings that lend a feminine feel to the space.
"The design is working really well and people love it."

– Kelly Sweeney McShane, CEO of Community of Hope
Expansion
Two home-like birth rooms and an accompanying family room are on the second floor of the new location. In total, the Family Health and Birth Center accommodates 14 patient exam rooms, up from 8 at the previous location, and can serve 25% more patients.
Community Effort
With the help of community donors, volunteers, and partners, Community of Hope stays focused on building a strong and sustainable organization that is caring for families, improving lives, and leading change.
Marie Wikoff is the creator of Wikoff Design Studio based out of Reno, Nevada. Her expertise in healthcare design has helped modernize healthcare organizations locally, regionally, and internationally, improving patient experience and outcomes. Her credentials include Evidence-Based Design Accreditation and Certification (EDAC), American Academy of Healthcare Interior Designer (CHID), the National Council of Interior Design Qualification (NCIDQ) and LEED AP. Contact Marie Wikoff
Sources:
Joy Choquette. "Community of Hope Family Health and Birth Center Gets Fresh Start – HCD Magazine." HCD Magazine – Architecture & Interior Design Trends for Healthcare Facilities, Healthcare Design Magazine, 16 Dec. 2022, https://healthcaredesignmagazine.com/trends/fresh-start-for-community-of-hope-family-health-and-birth-center/#slide-6.
"Home: Community of Hope." Home | Community of Hope, Community of Hope, https://www.communityofhopedc.org/.