Blog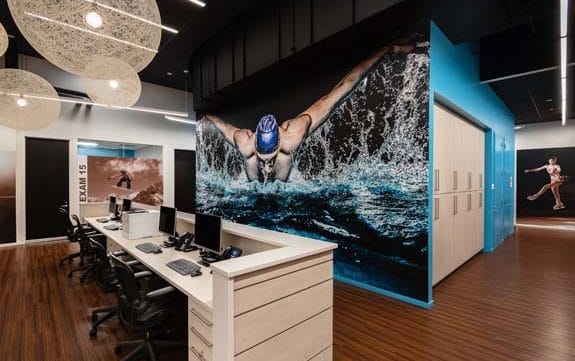 What happens when the mission is: Creative healthcare delivery and a focus on the mind, body, and spirit? The new Inova Sports Medicine complex. The facility featured here is a non-clinical space with larger-than-life performance graphics, views of an outdoor sports field and bold fabrics reflective of sports team uniforms and logos that ad focal points and interest to spaces.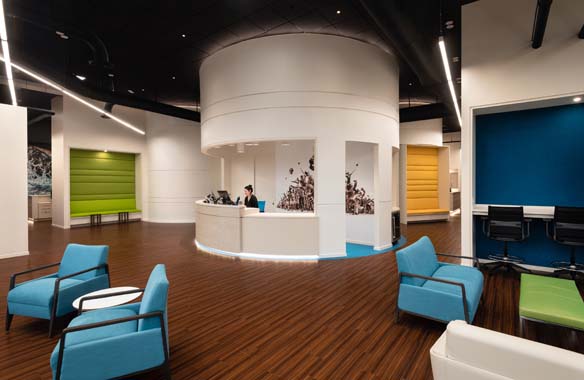 Design Concept
In conceptualizing the new clinic, there was a considerable focus on patients' perceptions of the space and how it could relate to their experiences in a familiar environment. The building chosen for the new clinic accommodated 20-foot-high ceilings and provided access to the outdoor sports field. High ceilings were painted black to dissolve from view, while 20-foot-high windows were added to the entrance and reception area to open the clinic to the surrounding sports field. Blurring the transition between indoor activity and outdoor training is a 30-foot-wide overhead door, allowing patients and physicians to experience field conditions both inside and out.
The functional space program and design concept called for two clinical "racetracks" with a connecting main street, allowing treatment teams to expand or contract as needed. Woodgrain flooring was used throughout to subtly reference traditional sports-court flooring materials. Linear light fixtures extend the length of the building, drawing the patient's eye to the "finish line" to define distance and direction, while circular rings of light illuminate focal points.
As patients move through the clinic, larger-than-life photographs of athletic moments are strategically placed to inspire and provide identification to treatment rooms.
Project details
Facility name: Inova Sports Medicine
Location: Fairfax, Va.
Completion date: January 2019
Owner: Inova Health Systems
Total building area: 20,000 sq. ft.
Total construction cost: $5.2 million
Cost/sq. ft.: $260
Architecture firm: Architecture, Incorporated
Interior design: Architecture, Incorporated
General contractor: Calloway Contracting Group
Engineering: KTA Group, Inc. (MEP),Cagley & Associates, Inc. (Structural), Christopher Consultants (civil)
Consultant—FF&E/Finishes: DMG Interiors
Builder: Calloway Contracting Group
Marie Wikoff is the creator of Wikoff Design Studio based out of Reno, Nevada. Her expertise in healthcare design has helped develop modern design for healthcare organizations locally, regionally and internationally. Her credentials include Evidence-Based Design Accreditation and Certification (EDAC), American Academy of Healthcare Interior Designer (CHID), the National Council of Interior Design Qualification (NCIDQ) and LEED AP. Contact Marie Wikoff
Source:
DiNardo, Anne. "PHOTO TOUR: Inova Sports Medicine." HCD Magazine, 9 Dec. 2019, www.healthcaredesignmagazine.com/projects/specialty-projects/photo-tour-inova-sports-medicine/#slide-2.