Blog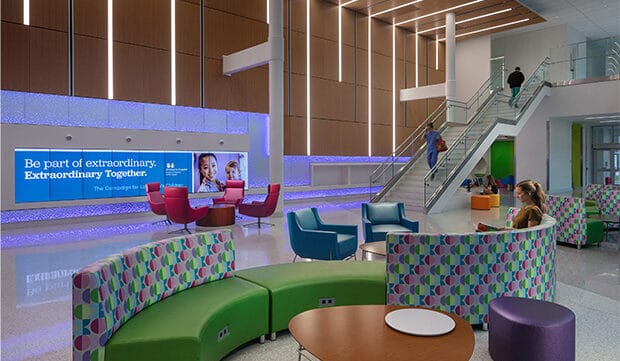 The following case study from EYP Architecture & Engineering proves that thoughtful and meticulous planning can ensure that a hospital is fully operational while undergoing massive renovations. Choosing to stay operational while undergoing a massive renovation is not only good for the community, and the staff, it's good for the bottom line. In this case, Children's Hospital New Orleans, the hospital remained fully operational with no interruptions to day-to-day operations. Choosing to renovate the existing building while staying operational allowed the client to get nearly everything it wanted at about half the cost of building brand new.
Case study: Children's Hospital New Orleans
Children's Hospital New Orleans is undergoing a 400,000-square-foot expansion and renovation within a 600,000-square-foot combined inpatient and outpatient facility. The multiphased modernization project, which is under construction and expected to be completed by fall, will take approximately seven years, from master planning to completion, incorporating 34 distinct phases. During modernization, the hospital will remain fully operational with no interruptions to day-to-day operations.
EYP Architecture & Engineering was brought on board in 2015 and worked closely with the hospital's management team—and in collaboration with the community, clinicians, and CM at risk—to evaluate the existing structures and develop a thorough understanding of hospital operations and aspirations. Early consideration was to build an entirely new building. A basic conceptual massing study and visualization renderings were conducted to allow everyone to get an idea of what the new building would look like, as well as a cost estimate based on square footage and the pros and cons of building new against the client's needs. Ultimately, this process showed that through modernization the client could get nearly everything it wanted at about half the cost of building new.
Moving forward, the team decided to use a phased-approach to keep some existing buildings to preserve historical significance while adding new structures to modernize and harmonize the entire campus. EYP developed the graphic tools to walk hospital management and contractors through each of the 34 phases and outlined a plan to keep the hospital operating while renovations took place. One of the first steps was to free space on and around the site to make room for the renovation work and equipment. To this end, a new parking deck was built across from the hospital to move most cars off-site. Also, staff offices on the clinical side of the campus were consolidated into historic structures on the landmark site, freeing up space internally. Additionally, the lab was moved to create room for a new main lobby. After the new expansion was built, the ICU and some of the dining were moved into the new tower while renovations to existing spaces for new services began.
Throughout the construction process, the team was cautious about what was being shut down to ensure the hospital remained fully operational. EYP updated the phasing plan every week with an eye on user experience and adjusted the schedule in light of emerging changes, such as cost savings, operational efficiencies, program changes, and unforeseen conditions such as weather events that could have resulted in delays. There were also instances where the pandemic delayed delivery of equipment, and even labor, because no one could come onto the site, creating the need to revise the timeline to allow certain spaces to speed up and others to be extended. (Source)
Marie Wikoff is the creator of Wikoff Design Studio based out of Reno, Nevada. Her expertise in healthcare design has helped develop modern design for healthcare organizations locally, regionally and internationally. Her credentials include Evidence-Based Design Accreditation and Certification (EDAC), American Academy of Healthcare Interior Designer (CHID), the National Council of Interior Design Qualification (NCIDQ) and LEED AP. Contact Marie Wikoff
Source:
David A. Deis and Matthew Chalifoux. "Operations and Facility Management." HCD Magazine Solid Choice Comments, Mar. 2021, healthcaredesignmagazine.com/trends/operations-facility-management/solid-choice/?hilite=%27cancer%27.