Blog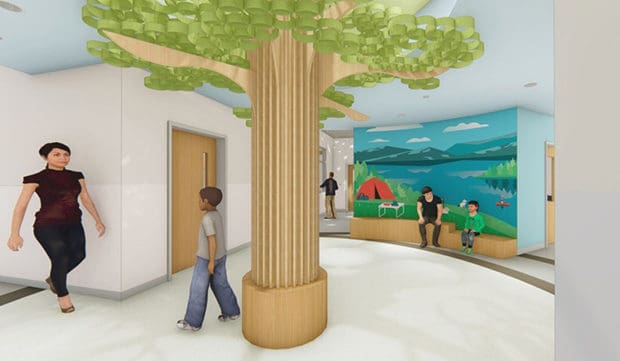 Biophilia is important for our physical and mental well-being. If we are deprived of the ability to affiliate with nature, it does affect us. That is why the biophilic design featured chosen for Maine Behavioral Healthcare Center of Autism and Developmental Disorders is so important.
Using biophilic design principles the facility will feature wood-look finishes, natural lighting, and nature graphics to provide warmth and familiarity. On top of that, the interior design finishes selected have acoustic properties and low VOC emissions which further supports children and adults with developmental disorders.
About the Design
The design of the project is inspired by nature and is largely driven by evidence-based research. For example, oak wood tones and organic patterns will add warmth and a sense of familiarity into the space, while wall protection and paint will be utilized to add color and graphics. Rubber and textile composite flooring will be installed to provide underfoot comfort, which will be beneficial for both patients and staff.
The Balancing Act
Over-stimulation is a concern for those on the spectrum, while lack of visual interest or variation can hinder growth and prevent acclimatization to neurotypical environments found in the outside world.
To address this, brighter and more saturated colors, along with texture and pattern, are used in higher-stimulation spaces such as the gymnasium and a central gathering space used to create sensory experiences. In contrast, rooms requiring higher concentration utilize more muted accents of color, indirect lighting, and absorptive acoustic finishes to reduce potential distractions.
Healthcare Design Magazine recently featured the Maine Behavioral Healthcare Center of Autism project. I recommend you check it out. See it here.
Marie Wikoff is the creator of Wikoff Design Studio based out of Reno, Nevada. Her expertise in healthcare design has helped modernize healthcare organizations locally, regionally, and internationally, improving patient experience and outcomes. Her credentials include Evidence-Based Design Accreditation and Certification (EDAC), American Academy of Healthcare Interior Designer (CHID), the National Council of Interior Design Qualification (NCIDQ) and LEED AP. Contact Marie Wikoff
Source
Tracy Walker. "Behavioral Health." HCD Magazine FIRST LOOK Maine Behavioral Healthcare Center of Autism and Developmental Disorders Comments, 2020, www.healthcaredesignmagazine.com/projects/first-look-maine-behavioral-healthcare-center-of-autism-and-development-disorders/.