Blog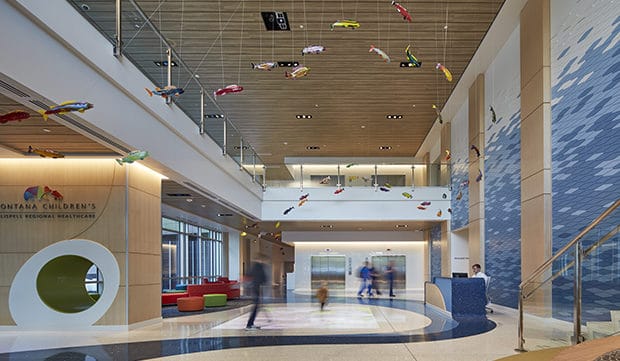 Montana Children's isn't just a healthcare facility, it is a place where children can feel at home, feel at ease, and feel cared for—in an environment that heals. The new hospital has many great features but today we want to highlight the lobby. Montana Children's Hospital features an interactive lobby that acts as a welcome distraction for patients and families.
The River Path – A Wayfinding Experience
Terrazzo custom flooring on the first floor is designed to mimic a river path. If you follow the path, you will reach all major access points. Visitors can interact with the welcoming bear and her cubs on the way or relax on one of the brightly colored chairs which are arranged and shaped to mimic large pebbles. There is even a water backdrop in the lobby.
Fantasy Fish To Keep Your Spirits Up
Looking up in the lobby, you will find a delightful collection, sixty to be exact of fantasy colored glass fish suspended from the ceiling, each hand-fabricated locally.
A Dry Pond To Keep You Wishing On
An interactive pond in the lobby floor is activated by walking across the surface area, causing the fish to move and interact with anyone who wants to play.
The design for Montana Children's is purposeful and meant to connect and inspire patients, family, staff, and community. And it does.
Project details:
Facility name: Montana Children's Hospital
Location: Kalispell, Mont.
Completion date: June 2019
Owner: Kalispell Regional Medical Center
Total building area: 190,000 sq. ft. including two shell floors on the 2nd and 3rd floors/80,000 sq. ft. on the 1st floor is the occupied pediatric space
Total construction cost: $54 million
Architecture firm: HKS, Inc.
Interior design: HKS, Inc. (overall), Four Point Design Partners (patient rooms)
General contractor: Swank Enterprises
Engineering: Jackola (civil), Associated Construction Engineering, Inc. (MEP)\
Marie Wikoff is the creator of Wikoff Design Studio based out of Reno, Nevada. Her expertise in healthcare design has helped develop modern design for healthcare organizations locally, regionally and internationally. Her credentials include Evidence-Based Design Accreditation and Certification (EDAC), American Academy of Healthcare Interior Designer (CHID), the National Council of Interior Design Qualification (NCIDQ) and LEED AP. Contact Marie Wikoff
Source:
Tracey Walker. "Pediatrics." HCD Magazine PHOTO TOUR Montana Children's Hospital Comments, 2020, www.healthcaredesignmagazine.com/projects/photo-tour-montana-childrens-hospital/#slide-7.