Blog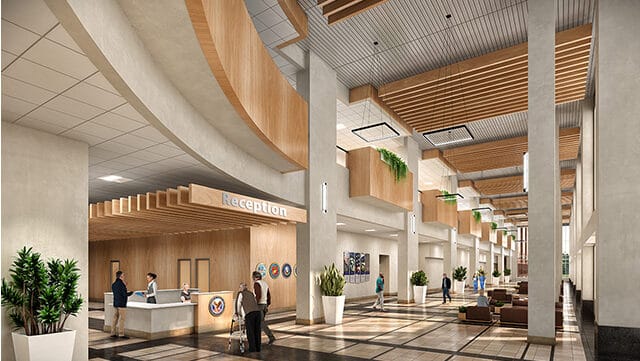 Each month, HealthcareDesignMagizine.com features up-and-coming projects in healthcare design. This month, they featured the Veterans Affairs Outpatient Clinic in Fredericksburg, VA and gave us a first look. The design elements that stand out the most are the warm and inviting entry and the correlating historical significance of the location. See it below. (source)
The U.S. Department of Veterans Affairs (VA) chose Fredericksburg, Va., as the home of this new clinic to alleviate demand in the Washington, D.C. area VA hospitals, to serve the community's rising veteran population, and to pay homage to the critical role Fredericksburg played in American and military history. The 426,722-square-foot Veterans Affairs Outpatient Clinic will answer that call upon completion in 2024.
The medical facility, offering outpatient and routine care, focuses on elevating the quality of life and productivity of veterans while also protecting the health, safety, and welfare of veterans, visitors, and staff.
Situated on 48 acres, the four-story project will include a healing garden and veterans memorial, among other greenspace amenities, that surround the building and create a distinct character to each quadrant. These greenspaces set the building in a more natural, therapeutic environment that engages visitors upon their arrival and throughout their visit. The clinic's scale is unprecedented in the community. To mediate this scale with the small-town character of the Fredericksburg community, the building massing is conceived as a series of volumes that divides the facility into quadrants. These quadrants serve different roles for the facility (main public entrance and memorial garden, healing garden, staff entry and amenity space, and service). These will relate to one another using a common language that is inspired by the local Georgian and neoclassical architecture of the region. The effect of this creates a sense of a small village of volumes, a theme that is reinforced with the interior public spaces.
The facility has a large, complex program consisting of primary care, imaging, ambulatory surgery and other clinics of various specialties that can create a challenge for planning and wayfinding. The neighborhood concept reflected on the interior allows each clinic to have a reception "portal" along the public promenade to provide ease of access. The cadence and rhythm of the portals and their associated waiting areas also break up the large expanses of public spaces along the building spine and periphery. Within each clinic the patient care spaces are arranged around a central staff space. This model is derived from the VA patient care module that allows the planning and care to be intentionally patient centric.
Project Details
Facility name: Veterans Affairs Outpatient Clinic
Location: Fredericksburg, Va.
Expected completion date: 2024
Owner: Carnegie Management
Total building area: 426,722 sq. ft.
Total construction cost: N/A
Cost/sq. ft.: N/A
Architecture firm: Little
Interior design: Little
General contractor: Harvey-Cleary Builders
Engineering: Little (civil); BR+A (MEP engineering, fire protection and low-voltage systems) and NV5 (structural engineering)
Builder: Harvey-Cleary Builders
Source
Tracey Walker. "FIRST LOOK: Veterans Affairs Outpatient Clinic." HCD Magazine FIRST LOOK Veterans Affairs Outpatient Clinic Comments, 2021, healthcaredesignmagazine.com/projects/first-look-veterans-affairs-outpatient-clinic/?blocked=true#slide-2.
Marie Wikoff is the creator of Wikoff Design Studio based out of Reno, Nevada. Her expertise in healthcare design has helped develop modern design for healthcare organizations locally, regionally and internationally. Her credentials include Evidence-Based Design Accreditation and Certification (EDAC), American Academy of Healthcare Interior Designer (CHID), the National Council of Interior Design Qualification (NCIDQ) and LEED AP. Contact Marie Wikoff