Blog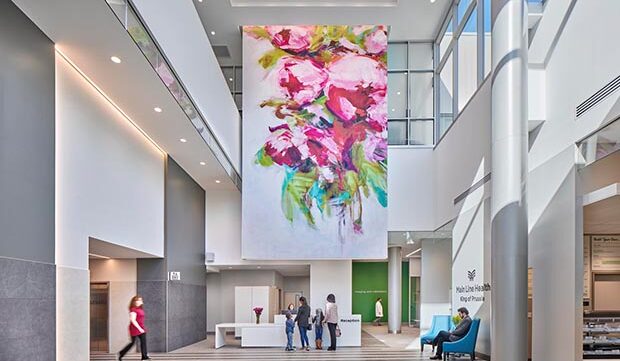 Supersized floral graphics are a key interior design element at Main Line Health's new women's specialty center. Main Line Health (MLH), a not-for-profit health system serving portions of Philadelphia and its western suburbs, was looking to expand beyond its traditional patient base. After looking at how scattered their women's offerings were, it made sense to create a space just for women.
After identifying the ideal location, they set out to create a design that was warm, welcoming, and accessible. To support a holistic approach to health, one of the new floors is organized into neighborhoods. Each neighborhood houses a specialty. The neighborhoods are interconnected by a support staff corridor making it easy for traveling providers to move between specialties. (source)
Design Features
To ensure the exterior building stood out among its taller counterparts, the design team installed colorful fins using the hospital's brand colors of green and blue. They are lit at night. The green is carried through to the decorative screens on the tower, which hide the three parking decks. This design element also acts as a safety feature making the garage feel safe.
The supersized floral graphics help bring the outside in and compliment the timeless, neutral palette chosen for permanent finishes. The striking hues of the large-scale florals are complemented by more than 200 pieces of original art in a wide variety of styles throughout the building, sourced through MLH's ArtAbility program, which encourages people with disabilities to find fulfillment and inspiration through art. Beyond that, the floral graphics also act as wayfinding tools. Digital photo murals of extreme closeups of flowers also bookend the elevator lobbies and lend their colors (orange, blue, green, etc.) to the garage levels as a wayfinding tactic.
Project Details
Project name: Main Line Health Women's Specialty Center King of Prussia
Project completion date: March 2020
Owner: Main Line Health
Total building area: 100,000 sq. ft.
Total construction cost: DND
Cost/sq. ft.: DND
Architecture: Nelson Worldwide
Interior design: Nelson Worldwide
General contractor: IMC
Engineering: Pisarek Engineering, PC
Builder: IMC
Art consultant: Carol Rubenstein Associates
Art/pictures: Carol Rubenstein Associates
AV equipment/electronics/software: New Era Technology
Carpet/flooring: Forbo, Stone Tile International, Tandus, Ecore Athletic, Armstrong Commercial Flooring
Ceiling/wall systems: Armstrong Commercial Ceilings
Doors/locks/hardware: Tru-Fit/Unified Door & Hardware Group, LLC
Fabric/textiles: Maharam
Furniture—seating/casegoods: Kershner Office Furniture
Handrails/wall guards: Construction Specialties, Acrovyn
Lighting: Lighting Solutions, Axis Lighting
Signage/wayfinding: RMH Image Group
Surfaces—solid/other: DuPont, Wilsonart
Wallcoverings: 3M
Paint: Sherwin Williams
Project details are provided by the design team and not vetted by Healthcare Design.