Blog
In the recent relocation and redesign of Samuel Oschin Cancer Center located in Cedars-Sinai, the building and design team used a Neighborhood concept to build a community for patients. The result is a modern space that groups like-cancer services together. This means patients can occupy the same waiting rooms and clinical exam rooms without traveling throughout the facility for specialized care.
The self-contained neighborhoods include registration, transportation, scheduling, pharmacy, social work, counseling, and nutrition consultation. Each located within steps of clinical and infusion treatments. As a result of the patients, medical teams, and staff, naturally develop communities of care. In turn, patients get to see the same care team at every visit and many of the same fellow patients. Since the design, bonds have quickly formed among patients, and many even request treatment times together so they can socialize. (Source)
Neighborhood Design Elements
When patients enter Samual Oschin Cancer Center they are welcomed and can immediately see the entire public concourse, including the patient neighborhood lounges.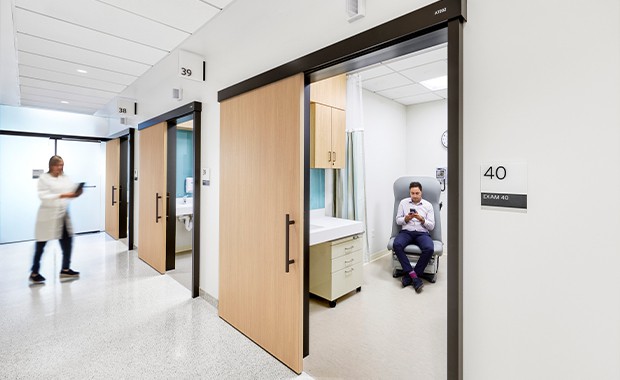 For efficiency, clinical exam areas, scheduling and registration, transportation, social work consults, and counseling and nutrition services are all a few steps from patient treatment areas.
Neighborhoods are supported by collaborative teaming areas for staff. The open, light filled spaces offer a variety of work settings with hoteling stations for visiting staff and assigned work stations for permanent staff.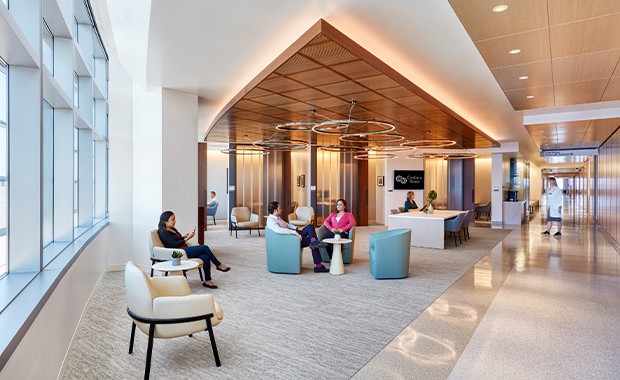 Both neighborhood waiting rooms are finished with colors and textures reflecting the Los Angeles environment. The spaces are furnished with multiple seating options – small intimate seating groups, larger living room settings and a long table with charging ports perfect for relaxing or getting some work done.
Project Details
Facility name: Samuel Oschin Cancer Center at Cedars-Sinai
Location: Los Angeles
Completion date: June 2020
Owner: Cedars-Sinai
Total building area: 45,000 sq. ft.
Total construction cost: Confidential
Cost/sq. ft.: Confidential
Architecture firm: HGA
Interior design: HGA
General contractor: Hathaway Dinwiddie Construction Co.
Engineering: ARUP (MEP), Degenkolb Engineers (structural)
Builder: Hathaway Dinwiddie Construction Co.
Source:
Tracy Walker. "Projects." HCD Magazine PHOTO TOUR Doylestown Hospital Cardiovascular And Critical Care Pavilion Comments, 2020, www.healthcaredesignmagazine.com/projects/photo-tour-doylestown-hospital-cardiovascular-and-critical-care-pavilion/#slide-7.
Marie Wikoff is the creator of Wikoff Design Studio based out of Reno, Nevada. Her expertise in healthcare design has helped develop modern design for healthcare organizations locally, regionally and internationally. Her credentials include Evidence-Based Design Accreditation and Certification (EDAC), American Academy of Healthcare Interior Designer (CHID), the National Council of Interior Design Qualification (NCIDQ) and LEED AP. Contact Marie Wikoff