Blog

Plymouth Pediatric Associates PPA (Plymouth, Mass.) has opened a new 12,000-square-foot medical office building (MOB) in Plymouth. Trapani Architects assisted PPA with interior design, furniture selection, site selection, programming, design, and construction administration.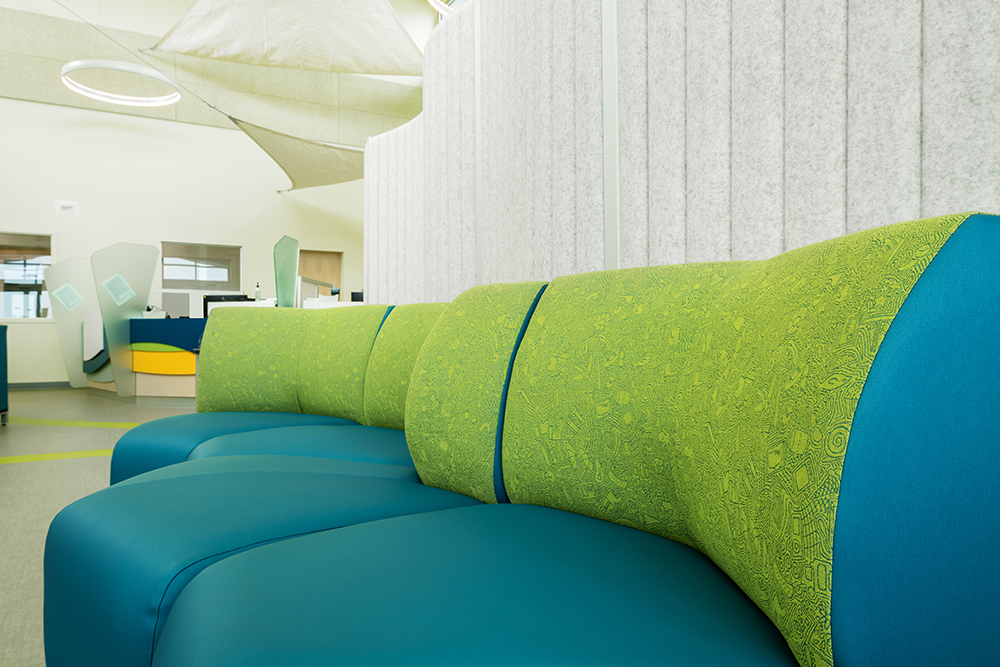 About the Design
PPA envisioned a calming "ocean-themed" space with fun colors for all ages which Trapani delivered. The Trapani design team used patterns resembling sand dunes and waves, and cloth canvas sails flying high above the sun-filled main reception/waiting area to evoke this concept.
COVID-19 Modifications
During construction, the team modified the plan in reaction to the effects of COVID-19 on a clinical setting, providing a solution that allowed the staff to section off areas of the clinic to create semi-isolated spaces, as needed.
The single-story medical office building includes both clinical and urgent care facilities, exam rooms, a lab, behavioral health treatment spaces, shared physicians' offices, and two clinical workstations. Administrative spaces, such as a staff break room and training/conference room, are separated from the clinic side of the building by a two-story atrium with a large reception area, which can house separate registration spaces for well and sick patients.
Project Team
Marie Wikoff is the creator of Wikoff Design Studio based out of Reno, Nevada. Her expertise in healthcare design has helped modernize healthcare organizations locally, regionally, and internationally, improving patient experience and outcomes. Her credentials include Evidence-Based Design Accreditation and Certification (EDAC), American Academy of Healthcare Interior Designer (CHID), the National Council of Interior Design Qualification (NCIDQ) and LEED AP. Contact Marie Wikoff
Sources:
"Project of the Month: Trapani Architects Designs NEW 12,000 s/f Building for Plymouth Pediatric Associates." NEREJ, Aug. 2021, nerej.com/pom-trapani-architects-designs-12000sf-building-plymouth-pediatric.
"News." HCD Mag, Aug. 2021, healthcaredesignmagazine.com/news/plymouth-pediatric-associates-opens-mob-in-massachusetts/.