Blog

The following article was originally posted on Healthcare Design Magazine, by Tracey Walker, Managing Editor on November 2, 2020 source
The University of Utah in Salt Lake City wanted to create an innovative design for an accessible, patient-centered rehabilitation hospital that would serve as a catalyst for further development of the university's rehabilitation programs. The $47.5 million, 172,000-square-foot Craig H. Neilsen Rehabilitation Hospital on the campus of The University of Utah, opened in May 2020 to answer that need. The physical rehabilitation hospital houses 75 beds for patients with spinal cord, neck, and brain injuries.
Craig H. Neilsen
It is named for the late Craig H. Neilsen, an American entrepreneur who had a severe spinal cord injury. In 2002, Neilsen established the Craig H. Neilsen Foundation, which provided funding for the hospital.
The Design Team's Vision
Architect and design firms HDR (Omaha, Neb.) and FFKR Architects (Salt Lake City) set out to construct a space where both patients and their families could envision their lives during and after the rehabilitation process through incorporating the natural environment directly with the built facility.
Patient rooms look out on the expansive Mountain West environs and many rehabilitative exercises take place on outdoor terraces or the Goldsmith Garden, indicating to patients and their families that there is still a world out waiting for them even after a life-changing injury.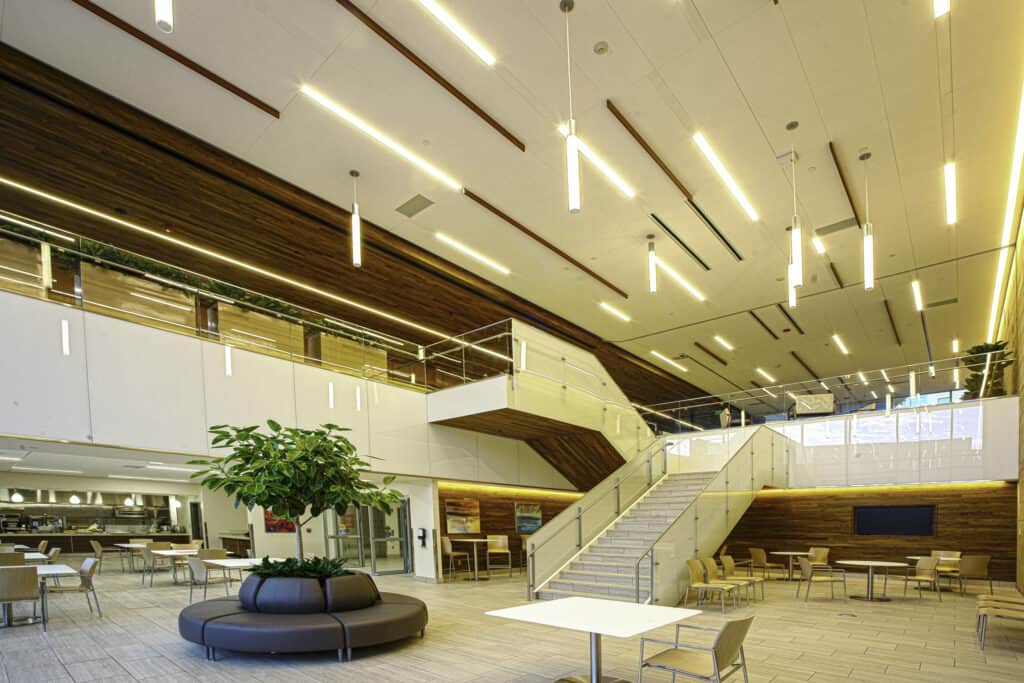 The facility opens with the warmly lit lobby, inlaid with wood paneling and white tile. On the first floor is the digital innovation lab, where doctors and scientists make use of the advanced computers and robotics to pioneer potential new treatments.
The basement houses the mobility garage, a wide and open space where patients and their physicians can test out new adaptable devices to restore or enhance mobility.
The second floor houses a state-of-the-art gym, connecting the outdoor exercise terrace overlooking the Wasatch Mountains.
To support patients, all rooms and elevators are equipped with fully customizable adaptive technology that allows levels of independent mobility. For example, doors can be opened by a tap on an iPad, thermostats adjusted by voice, lighting and TV channels cycled by a wireless sip/puff switch, and elevators called and ridden by a guest using a ventilator without assistance.
Project Details
Facility name: The Craig H. Neilsen Rehabilitation Hospital at the University of Utah
Location: Salt Lake City
Completion date: February 2020
Owner: University of Utah
Total building area: 172,000 sq. ft.
Total construction cost: $78 million
Cost/sq. ft.: $453/sq. ft.
Architecture firm: HDR and FFKR Architects
Interior design: HDR and FFKR Architects
General contractor: Okland Construction
Engineering: Van Boerum & Frank (civil/mechanical), Reaveley Engineers & Assoc. (structural), BNA Consulting (electrical)
Builder: Okland Construction
Marie Wikoff is the creator of Wikoff Design Studio based out of Reno, Nevada. Her expertise in healthcare design has helped develop modern design for healthcare organizations locally, regionally and internationally. Her credentials include Evidence-Based Design Accreditation and Certification (EDAC), American Academy of Healthcare Interior Designer (CHID), the National Council of Interior Design Qualification (NCIDQ) and LEED AP. Contact Marie Wikoff