Blog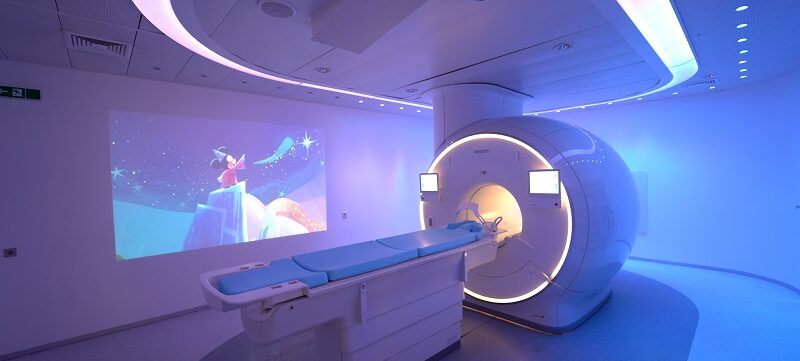 Earlier this month, Philips and Disney announced an exciting new partnership that may improve radiology outcomes for children. The ground-breaking research will study the effects of custom-made Disney animation on children undergoing MRI scans.
In most cases, an MRI scan can take up to 45 minutes. During that time, the patient needs to stay as still as possible. Philips Ambient Experience installments have helped patients by reducing the stress and anxiety many feel when undergoing a radiology exam.
Until now, the Philips Ambient Experience includes music, lighting, and imagery. The new partnership with Disney will take it a step further and focus its attention on pediatric patients. By incorporating known Disney characters into the display, the team hopes to provide the comfort and reassurance of a familiar character, but ensure that, from a radiology point of view, they get the best-quality images. (Source)
Announced in March 2021 during the European Congress of Radiology (ECR) virtual event, the research will explore the impact of Philips Ambient Experience on paediatric patients undergoing diagnostic scans in six European hospitals.
Philips Ambient Experience
Already installed in 2,000 hospitals around the world, Philips Ambient Experience improves patient outcomes by reducing the stress and anxiety many patients feel when undergoing a radiology exam.
This includes using music, lighting and imagery to combat the feelings of anxiety and claustrophobia often associated with the procedure, which can often take up to 45 minutes to complete.
A survey of Philips' existing Ambient Experience animation technology found that 76% of clinical staff reported reduced tension in their patients, while reduced fear was reported by 71%.
And 66% of respondents said their patients were more calm, 63% felt they were more co-operative, and nine out of 10 said they would recommended use of the technology to other hospitals.
Disney Collaboration
The new collaboration will focus specifically on children and aims to help reduce the need for sedation and repeat scans.
Werner Satter, general manager of Philips Healthcare Experience Solutions, said: "As you can imagine, or may have experienced yourself, medical exams like MRI scans can be challenging for many patients, especially children, who may be scared, anxious or feeling claustrophobic."
Six films have been created especially for use in hospital imaging environments and featuring reimagined versions of some of the most-well-loved children's characters
"Philips Ambient Experience helps manage these challenges by creating an engaging, multi-sensorial imaging environment that is welcoming and relaxing, giving patients a feeling of empowerment and control over their procedure."
This marks the first time Disney has collaborated in a clinical research project of this kind and is part of its $100m effort to re-imagine the patient pathway for children in hospitals worldwide.
"In addition to creating a positive experience, we know our characters help to build trust in children."
It will use a series of animated stories featuring stylised versions some of Disney's most-well-loved children's characters – including Winnie The Pooh, The Avengers, Star Wars and Disney princes and princesses.
The new versions have been chosen to relate to specific age groups and children will be able to choose a single video to play on a loop or a series of films to be played in any order.
Rather than playing the original films, this fresh approach has been designed to reduce excitement while promoting trust and emotional resilience.
By bringing Disney's characters and storytelling together with Philips' clinical knowledge and expertise in understanding the clinical and patient needs, we will measure the impact and we are really excited to see those results later this year
"These films have been designed with no sudden movements to help reduce fear and anxiety.
"In our research we found that the original movies were all quite excitable and made children laugh and dance and sing, which you don't want when they are undergoing MRI scans and need to keep still and relaxed.
"In this way we can provide the comfort and reassurance of a familiar character, but ensure that, from a radiology point of view, we get the best-quality images."
Children watch the movies through a mirror placed over their eyes which reflects what is being projected onto the back wall.
And it is not just the image the child sees, but a wider perspective of the inside of the MRI bore, further helping to reduce the feeling of claustrophobia.
The device also gives a countdown to tell the child how far along they are in the imaging process and how long they may need to hold their breath for as pictures are being obtained.
It is hoped the films may help to reduce anxiety and stress, with fewer children needing to be sedated
Satter said: "Telling a child to sit still for long periods of time can be very intimidating and this is a way of making the experience better and less scary.
The Impact On Stakeholders
If outcomes in radiology exams are improved, all stakeholders will benefit. First, the need for sedation among children decreases.
Second, radiology departments are overburdened by increased need. When scans need to be redone, this ads further stress on the schedule and departments are unable to meet current demand requirements.
In addition, unnecessary, sub-optimal, and repeat imaging costs as much as $12 billion a year at a time when there is a growing global shortage of experienced radiologists.
And, when questioned, imaging staff said 23% of their work was inefficient and would be better if automated; and 45% of radiologists reported symptoms of burnout.
Company Links
Marie Wikoff is the creator of Wikoff Design Studio based out of Reno, Nevada. Her expertise in healthcare design has helped develop modern design for healthcare organizations locally, regionally and internationally. Her credentials include Evidence-Based Design Accreditation and Certification (EDAC), American Academy of Healthcare Interior Designer (CHID), the National Council of Interior Design Qualification (NCIDQ) and LEED AP. Contact Marie Wikoff
Source
Author Unknown. "Philips and Disney Announce Partnership to Improve Radiology Outcomes for Children." Building Better Healthcare, Mar. 2021, buildingbetterhealthcare.com/news/article_page/Philips_and_Disney_announce_partnership_to_improve_radiology_outcomes_for_children/175099.