Blog
Healthcare services that look and feel like a hotel… Orlando Health Center for Rehabilitation designed a 110-bed destination rehabilitation hotel. The environment creates a hospitality experience like none other all while offering exceptional medical care.
Next Level Service
When checking in, the concierge desk is located upon entering the main lobby. Here, luggage carts are provided emulating the service of a luxury hotel.
The main lobby is designed as a place of respite and includes a fireplace and views of a large exterior terrace.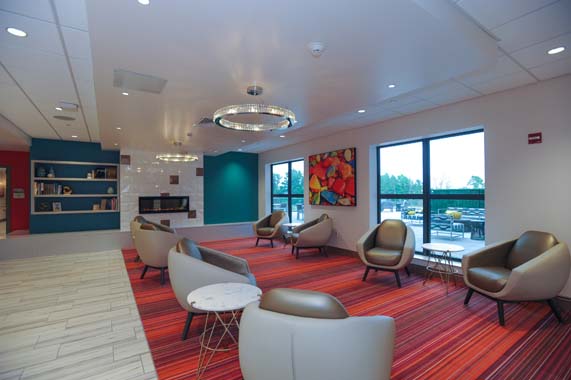 Service areas and most medical areas are hidden away from common areas. For example, the ambulance entrance is located on the side of the building. Also, patients can enter their units privately.
For nourishment, patients have access to the cafe which is also designed to host events.
Wayfinding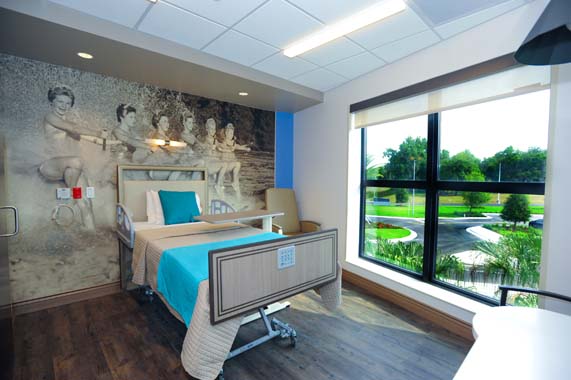 Each rehab patient room has a unique vintage sports theme with a correlating room sign. This helps patients, visitors, and staff easily identify each room.
The theme shown here pays homage to the historic Floridian Cypress Garden waterski shows. Each wall coverings serves as both wall protection and artwork.
Affordable Patient-Centered Care
A primary goal of the project is to redefine settings of excellence in accountable, affordable, and adaptable resident and patient environments as key components in a continuum of integrated care and improved personal lives. The collaboratively conceived solution features a four-story rehabilitation center housing 110-beds licensed as skilled nursing. The building comprises two top floors with 60 post-acute/rehab patient rooms canted toward views and natural light; a main level-wing of 10 hospice resident beds; and an open-yet-secure, 40-resident ground-floor household model for memory care.
The project, designed by KTH Architects, Inc., was completed in June 2019.
Project Details
Facility Name: Orlando Health Center for Rehabilitation
Location: Ocoee, Fla.
Completion Date: June 2019
Owner: Orlando Health – Health Central Hospital
Total building area: 90,993 square feet
Total construction cost: Cost not disclosed
Cost/sq. ft.: Cost not disclosed
Architecture firm: KTH Architects, Inc.
Interior Design: KTH Architects, Inc.
General contractor: Gilbane, Inc.
Engineering: TLC Engineering Solutions (MEP), MCE – Master Consulting Engineers, Inc. (structural), GAI Consultants Inc. (Civil and Landscape Architecture)
Consultants: McFarland Kistler & Associates, Inc. (kitchen), KTH Architects, Inc. (medical equipment planner), Corporate Art Trends, Inc. (artwork)
Builder: Gilbane, Inc.
Marie Wikoff is the creator of Wikoff Design Studio based out of Reno, Nevada. Her expertise in healthcare design has helped develop modern design for healthcare organizations locally, regionally and internationally. Her credentials include Evidence-Based Design Accreditation and Certification (EDAC), American Academy of Healthcare Interior Designer (CHID), the National Council of Interior Design Qualification (NCIDQ) and LEED AP. Contact Marie Wikoff
Photo Credit: Chris Gillyard Photography
Sources:
DiNardo, Anne. "PHOTO TOUR: Orlando Health Center for Rehabilitation." HCD Magazine, 8 Jan. 2020, www.healthcaredesignmagazine.com/projects/specialty-projects/photo-tour-orlando-health-center-for-rehabilitation/#slide-7.
"About Health Central Hospital." Orlando Health, 2020, www.orlandohealth.com/facilities/health-central-hospital/about.