Blog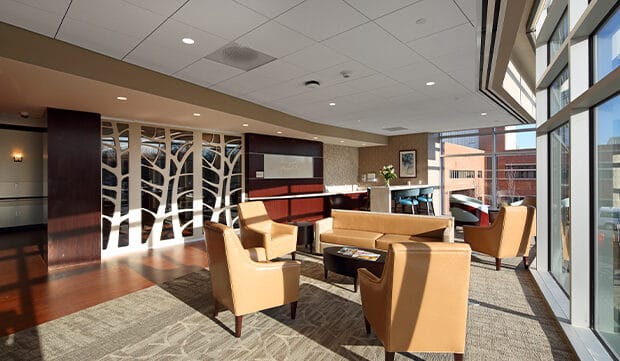 Doylestown Health is a leader in heart and vascular care. They are the only Community Hospital in PA to be recognized as one of the nation's 50 Top Cardiovascular Hospitals by IBM Watson Health. (source)
Many patients have benefitted from life-saving care offered by Doylestown Health's Heart and Vascular Center. Their patient experience is further enhanced by their family's experience. Here, you can see why. This light-filled area was designed with kin in mind. It offers respite and comfort to relatives without taking them too far away. The area is located at the end of the facility so families can have a place to go without leaving the second floor.
The interior design is thoughtful providing special touches that enhance the experience. For instance, apple daylight and decorative light filters offer positive distraction and maintain a connection to the outdoors.
About the Design
In partnership with Doylestown Health, The S/L/A/M Collaborative (SLAM; Philadelphia) completed a new $54 million, 100,000-square-foot, three-story addition to Doylestown Hospital, called the Cardiovascular and Critical Care Pavilion. Doylestown Health's goal was to expand the scope and depth of its cardiovascular services and to bring the future of medicine through advanced technologies with evidence-based design principles in a warm and caring environment offered throughout the bed-wing. The modern three-story atrium symbolizes the advancements in patient care.
The Center for Heart and Vascular Care, located on the second floor, marks the completion of phase 1 of a three-phase project. Included in the first phase is a 28-bed cardiovascular ICU/IVU and an expanded cardiac procedural suite with pre-and post-op bays that features a radial lounge, an endovascular hybrid surgical suite with a new hybrid OR. Future phases include a universal room intensive care/ intermediate unit on the third floor and an outpatient cardiac services suite on the first floor. (source)
Project Details
Facility Name: Doylestown Hospital Cardiovascular and Critical Care Pavilion
Location: Doylestown, Pa.
Completion date: January 2020
Owner: Doylestown Health
Total building area: 100,000 sq. ft.
Total construction cost: $54 million
Cost/sq. ft.: $530/sq. ft.
Architecture firm: The S/L/A/M Collaborative
Interior design: The S/L/A/M Collaborative
Engineering: Vanderweil Engineers (MEP), O'Donnell and Naccarato (structural), Boucher and James Inc. (civil)
Construction: The Norwood Company
Marie Wikoff is the creator of Wikoff Design Studio based out of Reno, Nevada. Her expertise in healthcare design has helped develop modern design for healthcare organizations locally, regionally and internationally. Her credentials include Evidence-Based Design Accreditation and Certification (EDAC), American Academy of Healthcare Interior Designer (CHID), the National Council of Interior Design Qualification (NCIDQ) and LEED AP. Contact Marie Wikoff
Source
Tracy Walker. "Projects." HCD Magazine PHOTO TOUR Doylestown Hospital Cardiovascular And Critical Care Pavilion Comments, 2020, www.healthcaredesignmagazine.com/projects/photo-tour-doylestown-hospital-cardiovascular-and-critical-care-pavilion/#slide-7.