Blog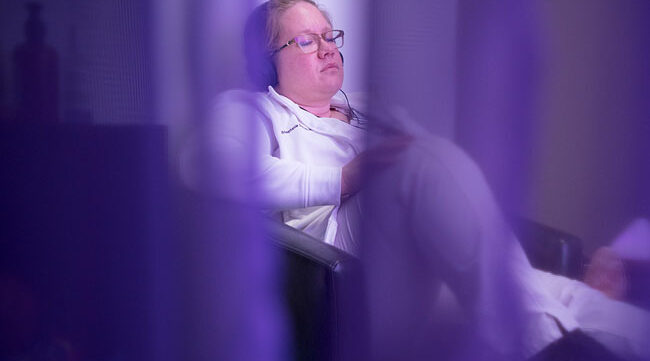 The Covid-19 pandemic has shined a light on the mental and physical stress that health care workers undergo daily. To help with this issue the UCI Medical Center in Irvine, California has created what they are calling Lavender Rooms. The highlights from the original article published in Healthcare Design Magazine are below. (source)
Lavender Rooms and Code Lavender
The Lavender Rooms are a place for healthcare workers to go during their shifts. The key purpose of the room is to calm, relax and lower the staff's stress levels. The Lavender Room design features a neutral color palette, natural light, peaceful art, and comfortable chairs with pillows and blankets.
Code Lavender is a protocol for health care workers who are experiencing acute stress, or mental/physical exhaustion. Instead of working them till they can't work anymore, it gives them the support they need to relieve some of the stress and exhaustion. When health care workers feel overwhelmed, they can go to the hospital's Lavender Room and invoke the protocol "Code Lavender".
UCIMC Offers Easy Access to Lavender Rooms & Special Break Accommodations
The UCIMC Lavender Rooms are located on every patient floor, away from the nurses' station. As part of the protocol, staff members using a Code Lavender room will not be called back to work until they're ready.
Interior Design Features
The UCIMC Lavender Rooms are designed to reduce the stress levels of health care workers. With that in mind, the spaces are outfitted with:
Full-Height Windows with Unfettered Views of the Adjacent San Joaquin Marsh
Lavender Diffusers
Comfortable Finishes
Neutral Color Palette
Peaceful Art
Flexible and Configurable Furniture
Cozy Pillow and Blankets
Massage Chairs
Music
Tea, Snacks and Candy
One Health Care Worker Had This to Say:
For more posts like this, see Beyond Break Rooms – Taking Care of Staff, Staff Support: Designing Optimal Healthcare Work Environments, and A Well-Built Environment Attracts Patients & Builds Loyalty
Marie Wikoff is the creator of Wikoff Design Studio based out of Reno, Nevada. Her expertise in healthcare design has helped develop modern design for healthcare organizations locally, regionally and internationally. Her credentials include Evidence-Based Design Accreditation and Certification (EDAC), American Academy of Healthcare Interior Designer (CHID), the National Council of Interior Design Qualification (NCIDQ) and LEED AP. Contact Marie Wikoff
Sources
Featured Image Creator | Copyright: Milos Kreckovic (Article)
Ucirvinehealth. "Code Lavender Program Brings Healing to Healthcare Workers." Code Lavender Program Brings Healing to Healthcare Workers | UCI Health | Orange County, CA, https://www.ucihealth.org/news/2021/11/code-lavender-program-brings-healing-to-healthcare-workers.
Chang, Gina. "Designing for Caregivers – HCD Magazine." HCD Magazine – Architecture & Interior Design Trends for Healthcare Facilities, 22 Feb. 2022, https://healthcaredesignmagazine.com/trends/designing-for-caregivers/.