Blog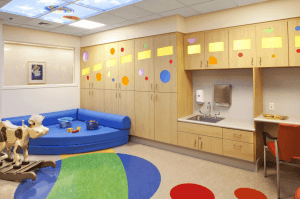 It's no surprise that kids crave color. But why?
Ongoing psychological studies suggest that color selection can influence mood and behavior, stimulate the brain and body and even affect one's health.
Marilyn Read, an associate professor of design and human environment at Oregon State University, believes that children's attraction to color in general goes far deeper than societal pressures and expectations. In fact, the presence of color may be necessary for their mental health. In a recent study in which Read measured the impact of color in preschool buildings, she found that in spaces decorated in color and shapes seemed to make children are more cooperative. "When children are very young, they use color and shape to identify things." Source: By Lucinda Rosenfeld Article: Red! No, Blue! No, Light Blue!
What are the benefits to using color to design kids spaces?
Scientific studies have also found that exposure to certain colors can improve sleep habits, increase memory power and even enhance academic performance – excellent benefits for growing minds and bodies.
Implementing color into children's hospitals:
Hospitals can be an intimidating place, especially for children. The sterile environment, big machines and strangers can intimidate/ scare little ones causing them to become uncomfortable and uncooperative.  Adding fun, colorful shapes to white walls can do a lot to increase the productivity of nurses, doctors providing treatment and help little one heal faster.  Below is a snapshot of Renown Children's Hospital, designed by Marie Wikoff of Wikoff Design Studio.  You may view more pictures of this project here.