Blog
DMG Interiors Managing Director Victor Sanz has been working in the healthcare design sector for many years, providing solutions for transforming healthcare facilities into healing spaces. In the interview below, Sanz shares his understanding of biophilic design.
Sanz On Biophilic Design
When asked about his experience with biophilic design, Sanz responds:
"First, understanding the principles of biophilic design is important: Due to increased urbanization, we are spending too much time indoors or inside vehicles, which has translated to lower productivity and performance. People tend to think about living walls when it comes to biophilia, but the truth is that it's something much more involved than that. It is a different way of understanding sustainability, where nature has an inherent effect on human beings, enhancing their well-being in many aspects.
There are different ways of tackling this, but some are as simple as highlighting the connection with our surroundings. If there is a nice view, it should be brought into the design. If views are not an option, maximizing natural light with transom windows or translucent glass partitions with different opacities, depending on the space, also do the trick. As an example, our recent Inova Sports Medicine Practice (shown below), has a waiting room and other key spaces like medical offices located along the window line, maximizing the connection with the forest surrounding the building.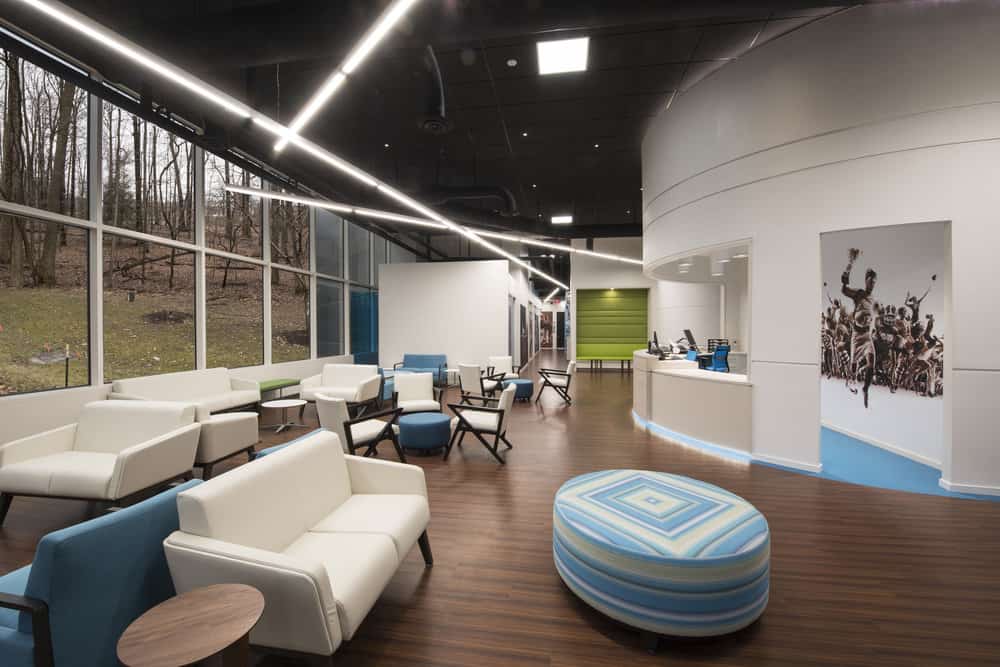 Biophilic design also highlights natural elements as the most relatable to humans, and consequently the finishes that would provide the most comfort for users. The use of wood for furniture or millwork, stone-look solid surfaces, and natural fiber wall coverings and fabrics are trending and will continue to do so in the near future. While working on the Inova VIP 360 Concierge Medicine project, the client requested a 'spa-look,' but what they were actually referring to were these biophilic principles." See the project photos below: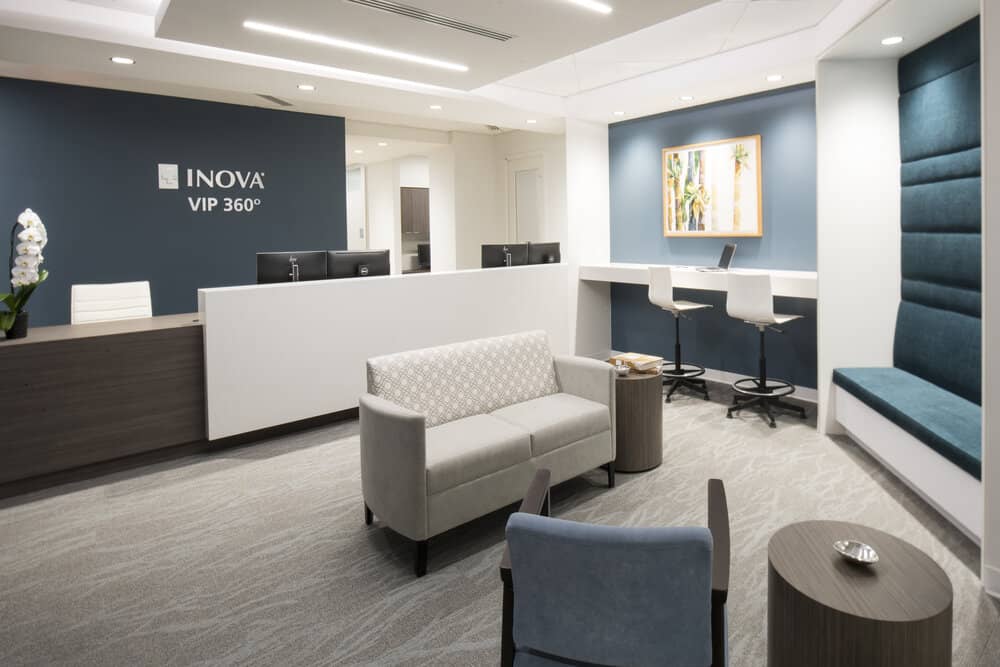 For more on Biophilic Design, check out these WDS Posts:
Biophilic Design Principles Provide Warmth and Familiarity to Maine Behavioral Healthcare Center of Autism and Developmental Disorders
Connection to Nature – The Hows and Whys of Biophilic Interior Design in the Healthcare Setting
Marie Wikoff is the creator of Wikoff Design Studio based out of Reno, Nevada. Her expertise in healthcare design has helped modernize healthcare organizations locally, regionally, and internationally, improving patient experience and outcomes. Her credentials include Evidence-Based Design Accreditation and Certification (EDAC), American Academy of Healthcare Interior Designer (CHID), the National Council of Interior Design Qualification (NCIDQ) and LEED AP. Contact Marie Wikoff
Article Sources:
"HEALTHCARE – DMG." DMG, 2021, www.dmginteriors.com/healthcare.
Roxana Baiceanu, Commercial Property Executive. "What's Trending in Health-Care Design?" Sachse Construction, May 2020, news.sachseconstruction.com/whats-trending-in-health-care-design/.