Blog

We've all been there… moving new furniture in only to realize its not going to go through the front door. Last week David Knickerbacher, President at Anchor Door & Hardware, United Rentals and Capital Glass came to the rescue. Using their Boom Lift to help lift new headboards through the second-story window of the Ronald McDonald House in Reno, Nevada.
Thank you so much for stepping up and helping the House when in need and then for donating your services! Also, a shout out to Whole Hog Hospitality Logistics for donating time. It's been a pleasure to work with you all.
Members of the community came together on Giving Tuesday making monetary donations that have helped propel us forward. We are so grateful!
About Anchor Door & Hardware
Anchor Door & Hardware, Inc. provides doors, frames, and accessories to builders and retail shops in Reno, Nevada. President David Knickerbacher has been serving the community and in business for 22 years. David can be reached here.
About United Rentals
United Rentals provides the world's largest fleet of rental equipment. Their tough and reliable supplies ensure jobs are done right. You can browse their product catalog here.
About Capital Glass
Capital Glass is a locally owned and operated business in Reno, Nevada providing over 50 years of service. They can repair single frame, dual-frame, or tempered glass and handle everything from replacement to repairs. Visit their website here.
About Whole Hog Hospitality Logistics
Whole Hog Hospitality Logistics is a woman-owned business and provides warehousing, logistics, transportation, installation, and project management word wide to hospitality establishments needing furniture, fixtures, and equipment. They can be reached at 775-224-4741,
About the Renovations
Wikoff Design Studio (WDS) is donating time and services to help the local Ronald McDonald House redesign all 12 bedrooms.
The renovations include new plumbing, flooring, electrical, and furniture for all 12 bedrooms. Construction is nearly complete.
Funding for the Project
The $200,000 dollar project was funded by the generosity of the community and the William N. Pennington Foundation. The outpouring of support for RMHC® at the recent Red Shoe Gala was overwhelming, as attendees donated $100,000 during the live auction and paddle raise portions of the event, which the Pennington Foundation offered to match in support of renovations to the 30+-year-old Ronald McDonald House. All $200,000 will be used for the remodeling project.
See the Designs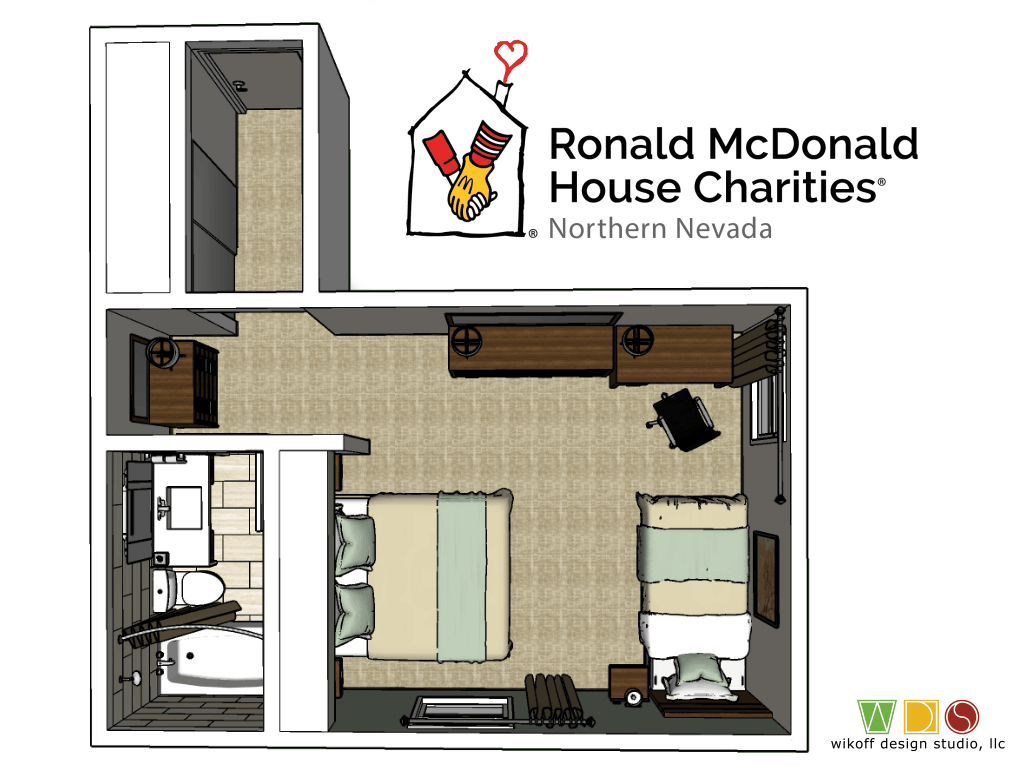 About Ronald McDonald House Charities® Northern Nevada (RMHC® Northern Nevada)
The Ronald McDonald House provides comfort and care to children and their families by providing a "home-away-from-home" for families so they can stay close by their hospitalized child at little or no cost.
Many families travel far from home and spend several weeks or months to get treatment for their seriously ill or injured children – a long time to be away or to divide a family. For children facing a serious medical crisis, nothing seems scarier than not having mom and dad close by for love and support.
At every House, families can enjoy:
Home-cooked meals
Private bedrooms
Playrooms for children
WDS is happy to help the Ronald McDonald House Charities of Northern Nevada redesign their existing rooms and bathrooms. The renovated rooms will further help the children who receive treatment at the local Reno hospitals and their families.
Marie Wikoff is the creator of Wikoff Design Studio based out of Reno, Nevada. Her expertise in healthcare design has helped develop modern design for healthcare organizations locally, regionally and internationally. Her credentials include Evidence-Based Design Accreditation and Certification (EDAC), American Academy of Healthcare Interior Designer (CHID), the National Council of Interior Design Qualification (NCIDQ) and LEED AP. Contact Marie Wikoff