Blog
The Brooklyn Hospital Center, Physicians Pavilion received an honorable mention in the 2021 Design Showcase Awards. See what the judges had to say.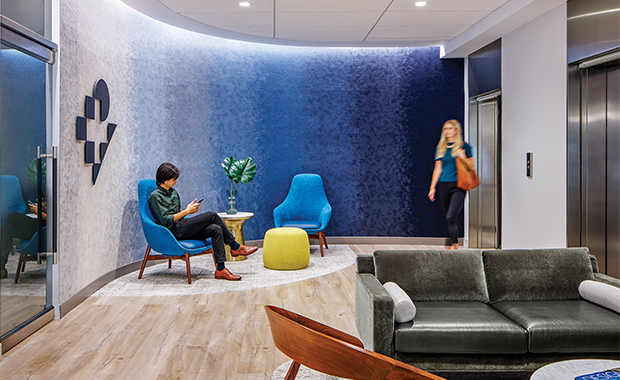 Sophisticated Furnishings, Color Schemes and Lighting
One jury member had this to say about the furnishings and thoughtful interior design selections:
Creating Space with Ceiling Heights Instead of Walls
Another jury member made this observation:
Flexible Space and Wayfinding
How does one define flexible shared space? By using a stacked diagram that shows how a space can be shared. Here is what another judge had to say:
About the Designer, EwingCole
EwingCole is a fully integrated architecture, engineering, and interior design firm. Their multi-disciplinary practice is built on the core values of professional excellence, design quality, and collaboration. See what they are About…
See more Brooklyn Hospital Center, Physicians Pavilion Photos from EwingCole
Design Details and Award-Winning Aesthetics
The Brooklyn Hospital Center, Physicians Pavilion is a home for 20 different physician practice groups. The 45,000 square foot building ensures that all the physicians can operate efficiently. The specific design features include:
Optimized Views Throughout
Base Palette of Wood Tones and Light Neutrals
Bold Accents Introduced Via Paint, Upholstery, and Wallcoverings
Hospitality Feel Delivered Through Furnishings Ranging from Side Tables and Ottomans to a Charging Bar
Marie Wikoff is the creator of Wikoff Design Studio based out of Reno, Nevada. Her expertise in healthcare design has helped develop modern design for healthcare organizations locally, regionally and internationally. Her credentials include Evidence-Based Design Accreditation and Certification (EDAC), American Academy of Healthcare Interior Designer (CHID), the National Council of Interior Design Qualification (NCIDQ) and LEED AP. Contact Marie Wikoff
Sources:
"Physicians Pavilion." EwingCole, 2021, www.ewingcole.com/portfolio_page/physicians-pavilion/.
"Acute Care." Edited by Jennifer Kovacs Silvis, HCD Mag, Aug. 2021, healthcaredesignmagazine.com/projects/acute-care/2021-showcase-honorable-mention-smooth-operator/#slide-3.