Blog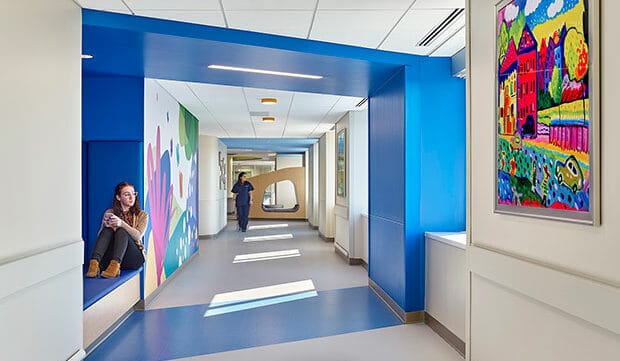 UPMC Harrisburg, Pediatrics Unit in Harrisburg, Pa., recently underwent a 20,000 square foot renovation of its pediatrics unit. Designed by Stantec's Philadelphia office, the new space offers positive distractions for patients, comfort for families, and efficiency for staff.
In the photo featured here, patients can find little nooks alongside the custom murals while enjoying the natural light that floods in. Windows along the corridors provide river views from the benches. Overall, this bright space sparks optimism.
The 20,000-square-foot renovation focuses on providing high-quality outcomes and improved patient and family experiences, with 11 new private and universal patient rooms allowing the flexibility to provide intensive care unit-level of care, as needed.
Beyond clinical areas, the unit's dedicated play and activity areas create space for all age groups. Within the play space, therapeutic and interactive programming helps to reduce stress while encouraging socialization and educational opportunities. Patients and families are welcomed and comforted by vibrant colors, floor patterns, and dynamic visuals. The overall unit plan provides openness to maintain staff sightlines and encourages a feeling of community for patients/families.
Visit HealthcareDesignMagazine.com to see the full photo tour of UPMC Harrisburg, Pediatrics Unit
Project Details
Facility Name: UPMC Harrisburg, Pediatrics Unit
Location: Harrisburg, Pa.
Completion Date: January 2021
Owner: UPMC Harrisburg
Total Building Area: 20,000 sq. ft.
Architecture Firm: Stantec
Interior Design: Stantec
General Contractor: Quandel Construction Co.
Engineering: Barton Associates (MEP/fire protection); O'Donnell & Naccarato Inc. (structural)
Interactive Elements: Metcalfe Architecture & Design
Marie Wikoff is the creator of Wikoff Design Studio based out of Reno, Nevada. Her expertise in healthcare design has helped modernize healthcare organizations locally, regionally, and internationally, improving patient experience and outcomes. Her credentials include Evidence-Based Design Accreditation and Certification (EDAC), American Academy of Healthcare Interior Designer (CHID), the National Council of Interior Design Qualification (NCIDQ) and LEED AP. Contact Marie Wikoff
Source
"Photo Tour: UPMC Harrisburg, Pediatrics Unit – HCD Magazine." Edited by Tracey Walker, Managing Editor, HCD Magazine – Architecture & Interior Design Trends for Healthcare Facilities, 15 Dec. 2021, https://healthcaredesignmagazine.com/projects/photo-tour-upmc-harrisburg-pediatrics-unit/#slide-7.