Blog
People ask me why I focus on healthcare design. The answer is simple. I work in healthcare to make a difference. There are dark days for everyone. Patients undergoing long-term treatments may have the darkest of them all. Fear of the unknown, losing the ability to live and work as you please, worry for your family and friends, and the ultimate fear of all, loss of life.  This is a reality. These are the dark anxieties that plague patients. We, as designers, architects and healthcare administrators, can help alleviate these anxieties through uplifting design.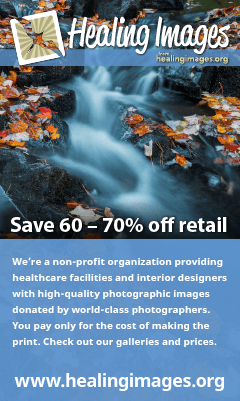 Uplifting Design
Uplifting design brightens, cheers and unburdens many of the harsh realities that patients, their families and the healthcare providers face every day. Through design, we can provide the optimum environment for the sick to receive the upmost care.
What makes an uplifting design? These days it falls under the idea of patient centered care.
Patient Centered Care
Patient centered care is a mindset for designers that seek to improve the patient experience. An example of this theme might be to create a home-like environment that is more welcoming to patients and their families. Doing so improves the overall patient experience. There are several ways to design for patients. One of the biggest parts of patient centered care is the staff. Following design techniques that cater to the staff is a large part of improving the patient experience. Below is a summary of techniques that I recently used with Hilliard Architects Inc., and Affiliated Engineers Inc. while revamping the Sacramento VA Medical Center.
Efficient Use of Space
Improving the patient experience isn't about catering to the patients only. It's also about the staff. The question on every designer's mind is: "How can we improve the layout of a room to make the staff's job easier?" When we alleviate the stress put on staff, they tend to have more time to give attention to patients and they are happier on the job.
Family Area
Incorporating a family area encourages patients to get out of bed, walk and spend time with family. The great room shown in this picture is equipped with a living room, dining room and full kitchen. Families can gather in the homey environment to enjoy a meal, watch the big game or have a cup of coffee together.
Family Conference Room
Carving out space for a family conference room can make a big difference. A private place for nurses, doctors and family members to sit and talk is much better than standing in the hallway outside the patients room.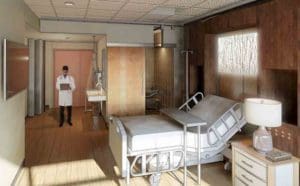 Patient Room
Designing large, comfortable spaces with fabrics and materials that are warm and inviting help patients to feel at home which can alleviate anxiety. In this rendering, hospital equipment is hidden in the bed frame and lighting is soft and adjustable. There is also a generous sized seating area to accommodate family and friends.
Staff Lounge
The staff are the most important part of the hospital. Give them a space to unwind and make the most of their downtime. In this rendering, floor to ceiling glass provides a spectacular view. Providing a break room like this gives caregivers an opportunity to relax and recoup.
Decentralized Nurse Station
Decentralized nursing stations is a way to improve productively and cut down on all the walking nurses tend to do while going back and forth to charting areas and patient rooms. Creating smaller nurse areas closer to patients allows caregivers more time to spend with their patients.
Implementation
Implementing the design techniques mentioned is this post is how I can make a difference in today's healthcare environment.
Sources:
Note: The rendering shown here are from a project that Wikoff Design Studio and Hilliard Architects worked on for the Sacramento VA Hospital.
Hilliard Architects https://hilliardarchitects.com/about/
Wikoff Design Studio http://wikoffdesignstudio.com/