Blog

On May 23, UF Health North's inpatient hospital, located in Jackson, Fla., opened to the public. The hospital is home to 92 private patient suites. Each suit promotes healing and improves patient experience. Using the latest technology and evidence based design techniques, the new UR Health North will provide high-quality healthcare to patients across Northeast Florida and Southeast Georgia.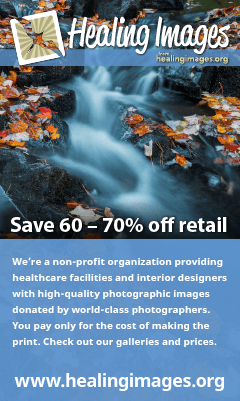 Patient Engagement Technology to Improve Patient Experience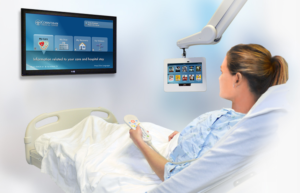 Patient engagement is vital for today's hospitals to improve patient outcomes and satisfaction scores. As a result, many healthcare organizations are using interactive patient systems.  UF Health North is no exception.
Each private patient room is equipped with interactive technology called SONIFI, shown in the image above. A tablet and pillow speaker synced with the 55-inch TV is available in each room. The interactive patient engagement applications work through the tablet and TV and encourage active patient participation along the continuum of care to promote healthy lifestyle choices and improved patient outcomes. Patients can adjust environment controls, order meals and communicate with the care team.
Healing Views
Each room also has numerous windows and a view of the outdoor courtyard, pond or rooftop succulent garden. Many waiting lounges are connected to balconies, and two floors connect to the neighboring medical office building for easy transfer and patient navigation.
UF Health North has 12 labor and delivery suites, opening in late summer. They also serve as recovery and postpartum rooms. Three of these suites feature hydrotherapy tubs for water births, and around the corner from the labor and delivery suites are two dedicated obstetric operating rooms for mothers in need of a planned or unplanned cesarean section.
Contemporary Design Features
The hospital features a contemporary design that draws on the wetlands in the region. A wall relief depicting the St. Johns River flows from the lobby on the first floor up to the fifth floor. The artwork is visible from the exterior of the building through the front windows. Pieces from local artists decorate the interior, including murals near nurses' stations and photography used as cabinet doors to conceal medical supplies. Additionally, the hospital is built to meet LEED Silver Certification standards of sustainability and green design.
The hospital's first floor houses a full-service cafeteria with indoor and outdoor seating, and a café with a coffee bar down the hall. The courtyard features seating surrounded by greenery, and the chapel has many windows. Four conference rooms are available for public use to hold meetings and can be opened into a single space for larger events. Additional parking has been added next to the inpatient, and a private discharge elevator is nearby for patient pickup.
Sources:
http://north.ufhealthjax.org/
http://www.sonifihealth.com/
http://www.healthcaredesignmagazine.com/news/news-projects/uf-health-north-opens/http://north.ufhealthjax.org/